Bitcoin has been maintaining a sidewards trend for more than a couple of months now, hovering at around $23k. Although, it recently dipped to $21k and has been maintaining the position for a few days now.
This is not the first time Bitcoin has appeared rather stagnant. After the 2019 bull run, Bitcoin kept relatively stable for over 4 months. Until it crossed the $10k level and tried its best to stay close to it for more than a year before the next bull cycle pulled the price up to what we now know as Bitcoin's all-time high of $68,789.
Investors are curious whether Bitcoin is about to head for another bull run, as it has shown similar price action historically. While all the estimates remain speculative, let's see what are the chances of Bitcoin crossing $30k in September.
How Has Bitcoin Been
Taking the wider picture into consideration, Bitcoin was expected to cross $100k this year, however, it fell off dramatically before touching the $70k level that could've given enough confidence for the $100k dream to materialize.
Last Friday, Bitcoin fell off from whatever little progress it was making and landed below $21k for a while. Since then, the coin has been hovering around the same level and anticipations for its further movements remain uncertain.
The current price has witnessed a more than 10% drop when compared to highs in mid-July. And this is an indication of, according to a few market experts, an attempt to set a new floor for Bitcoin. The next 3-4 months could be ugly if Bitcoin continues to maintain a downward trend. Additionally, the news bought by the Ethereum Merge will take away the attention from Bitcoin as Ethereum will likely be considered the next biggest crypto.
Investors are quite skeptical about Bitcoin being a hedge against inflation as well, given the recent trend of the market that led to a more than 70% dip in the coin's price.
All these factors could very likely prevent Bitcoin from reaching $30k this month. And while Bitcoin remains one of the most preferred choices for investment, market participants are interested in expanding their options. Investing in coins with stronger returns. And one such token is Tamadoge.
Visit eToro
Your capital is at risk
Is it Time To Buy Tamadoge?
If you haven't heard of Tamadoge, now is a good time.
Tamadoge is a play-to-earn crypto token part of the Tamaverse ecosystem. It is also a meme coin offering utility to its users by allowing them to make money by playing games.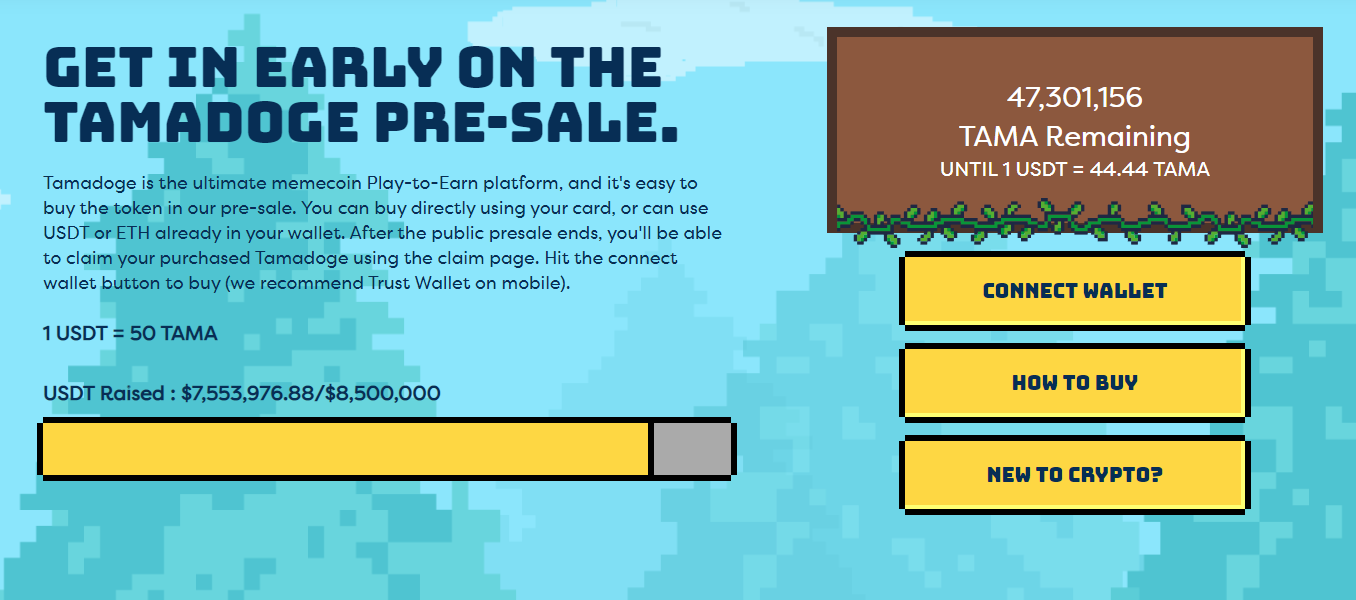 In the Tamaverse, you'll be able to breed, care for and battle your pets and climb up the leaderboard by gaining Dogepoints. At the end of each month, users with the highest Dogepoints will be able to claim their winnings. Not only will you grow your portfolio more as you accumulate more Tamadoge, but also help it increase in value as the token itself increases in price.
This is one aspect where Tamadoge separates itself from all the best meme coins in the market that fail to provide any utility to their investors. Plus, it's deflationary in nature with a maximum supply of 2 billion tokens.
This is a distinguishing factor as, unlike other cryptocurrencies, this limited supply does not reduce the value of the coins to a fraction of pennies. Which is what most other meme coins appear to be valued at.
The play-to-earn ecosystem is also one of the largest sectors of the cryptocurrency market, and many projects such as Axie Infinity and The Sandbox have grown to become some of the biggest crypto projects, irrespective of their niche. These projects are now known by most players in the market, and Tamadoge is expected to be one such name.
Tamadoge recently had a pre-sale where they've raised more than $7 million so far and continuing to raise more every day. Additionally, they have a little less than 50k followers on Twitter and over 25,000 users on their telegram group. And it's only been a while since the token has been launched.
What's more? Soon after the presale gets completed, Tamadoge plans to get listed on centralized exchanges and decentralized exchanges later this year.
Buy Tamadoge
BTC VS TAMA
So far, we've seen that while Bitcoin has shown some signs of recovery in the past few months, it doesn't show much optimism when it comes to reaching $30k in September. Yes, a sudden market move could possibly trigger that, and some experts have made similar predictions. But it's only wise to be realistic and not fall prey to such far-fetched speculations.
While that is true, one cannot deny the fact that BTC is one of the best cryptocurrencies to invest in and has proven to deliver promising returns for years on end. Therefore, it's fair to say that, over the long run, Bitcoin is very likely to cross $30k, just not this September. And there's no harm in keeping it in your portfolio.
At the same time, you shouldn't ignore lucrative opportunities such as Tamadoge. From what it can be understood so far, Tamadoge is expected to have a bright future. Potentially giving much better returns than Bitcoin. And therefore, including it in your portfolio along with Bitcoin would be a wise decision.
Read More
Tamadoge – Play to Earn Meme Coin
Earn TAMA in Battles With Doge Pets
Capped Supply of 2 Bn, Token Burn
NFT-Based Metaverse Game
Presale Live Now – tamadoge.io
Credit: Source link