The Shiba Inu community has set a host of benchmark targets for the price of SHIB. Over the short term, they get thrilled every time the asset deletes a 'zero' from the price. Contrastingly, over the medium and long term, they have quite ambitious dreams and expect SHIB to attain 1 cent and 1 dollar one day.
Also Read: Shiba Inu: 2 Ways SHIB Could Reach $0.01
The 1-cent dream
Shiba Inu reached its all-time high on Oct. 28, 2021. At that time, it successfully went on to clinch $0.00008845. At press time on Wednesday, Aug. 30, 2023, SHIB was trading with an extra zero, at $0.00000824. This marks a 90.68% decline from its peak.
For Shiba Inu to attain the $0.01 benchmark, it will have to initiate a whopping 121,259.2% rise from its current price. Reaching such a milestone will require substantial growth and significant time. Parallelly, various factors like market conditions, adoption, investor sentiment, overall demand, and utility of the token will also play key roles.
Also Read: Shiba Inu: Is SHIB Primed to Rise 16% by Sept. 1, 2023?
Reaching $0.01 over the next few months seems unrealistic at this stage. So, let us delve into the targets that are currently in sight for Shiba Inu.
On the weekly chart, Shiba Inu recently broke its uptrend, which is a bearish sign. However, the asset is trading above $0.00000787, a level that acted as strong resistance for SHIB in June and July. This also coincided with the 23.6% Fib level. Thus, if SHIB manages to stay afloat and garner liquidity over the next few days, it could initiate an uptrend again. $0.00000937 and $0.00001059 would be subsequent targets for the asset.
In fact, even from the on-chain perspective, SHIB's next biggest resistance cluster only lies at an average price of $0.000011. At this price, 346,600 addresses have bought a total of 246.1 trillion SHIB tokens. So, only when the asset's price reaches this level, will investors be triggered to cash out. This, in turn, could transpire into a sell-off spree. Until then, SHIB has room to appreciate.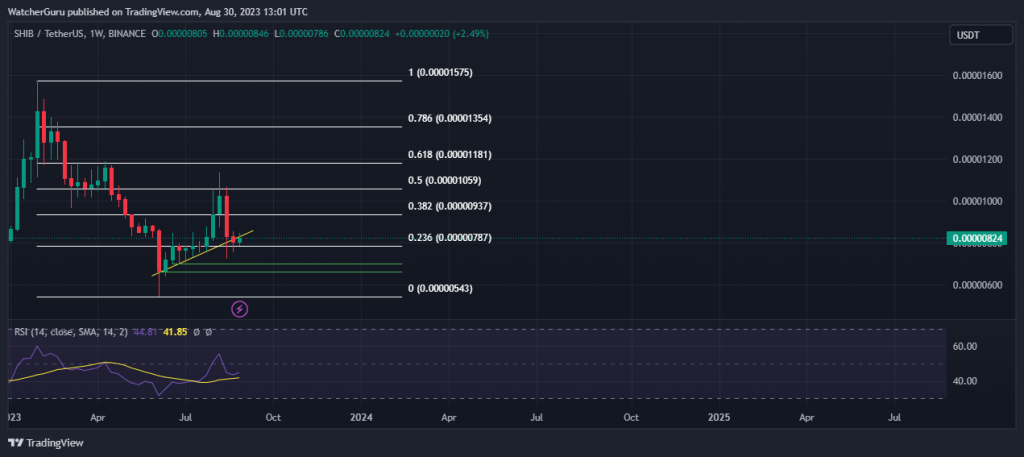 Also Read: Shiba Inu: SHIB to Hit $0.001 If Its Market Cap Touches $550 Billion?
Credit: Source link