This year, 2022, is witnessing the most severe bear market of all time. Most popular cryptocurrencies like Bitcoin and Ethereum went significantly down from their all-time high price in 2021, creating uncertainties in the crypto market.
This crypto winter has led investors to become a little skeptical about digital assets. However, various altcoins are gradually getting back on track and experiencing a surge in their price.
This is when the potential investors can invest in the digital assets and make a profit by either holding them for a longer period or selling them once the price shoots up.
Shiba INU
Shiba Inu tops the list of our top crypto gainers as it's experiencing a 5.01% surge in its current price. By the time of writing, it has a price of $0.00001609 and a market cap of $8 billion. Moreover, this meme coin was among the most profitable investments last year.
Shiba Inu is a dog-themed coin and a community-based crypto project that quickly gained popularity because several popular influencers like Elon Musk showed interest in it. Shiba Inu can run smart contracts and work with dApps as it is built on the Ethereum network.
This sets it apart from its competitors like Dogecoin, which lacks such functionalities. Shiba also has a great utility and offers a virtual reality NFT marketplace where users can mint parcels of digital lands with its native token SHIB or ETH.
With the current rise in its price, Shibu Inu may experience an upward trend once again like the last year. It is also supported by many followers that hypes the coin over social media. However, only the future will tell how the coin turns out to be for its investors.
Buy SHIB
Your capital is at risk
Ethereum
Ethereum is one of the most used open-source blockchain platforms that powers other cryptocurrencies and executes decentralized smart contracts.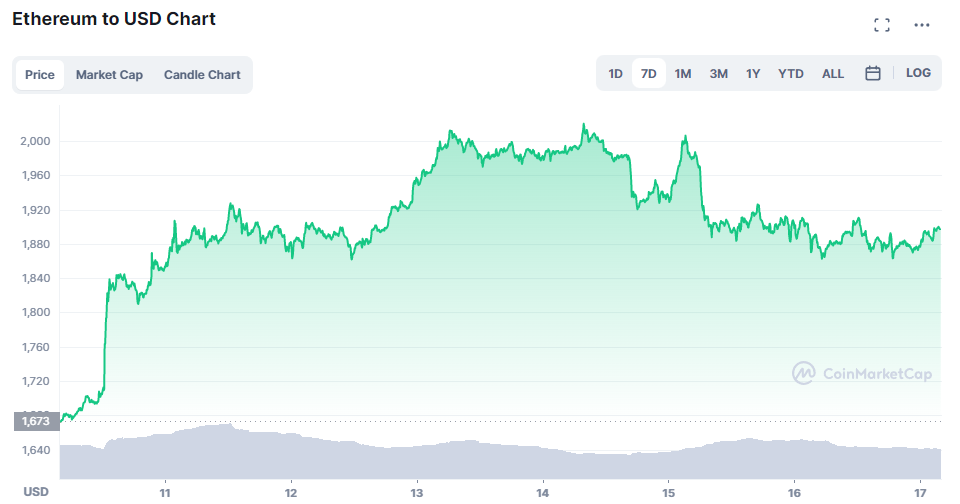 Ethereum's native token, ETH, is used to carry out the transactions on the blockchain and for other processes on the blockchain. It is the first choice for developers and enterprises because of its scalability, security, and decentralized nature.
Ethereum works on a Proof-of-Work (PoW) consensus protocol. However, it is planning to make a transition to the Proof-of-Stake (PoS) protocol (called the merge) in September this year, if sources are to be believed.
This transition will result in some significant changes in the Ethereum environment, which may also attract potential investors to the platform. Additionally, it is also expected that the price of Ethereum can shoot up drastically if the "merge" succeeds.
At the moment, Ethereum has a price of $1,914.45 and a market cap of $200 billion.
Buy ETH
Your capital is at risk
Dogecoin
Dogecoin is another meme coin based on the popular dog theme and initially started as a joke but later gained huge traction. One of the main reasons behind the success of dogecoin is Elon Musk and his tweets sharing his interest in the coin.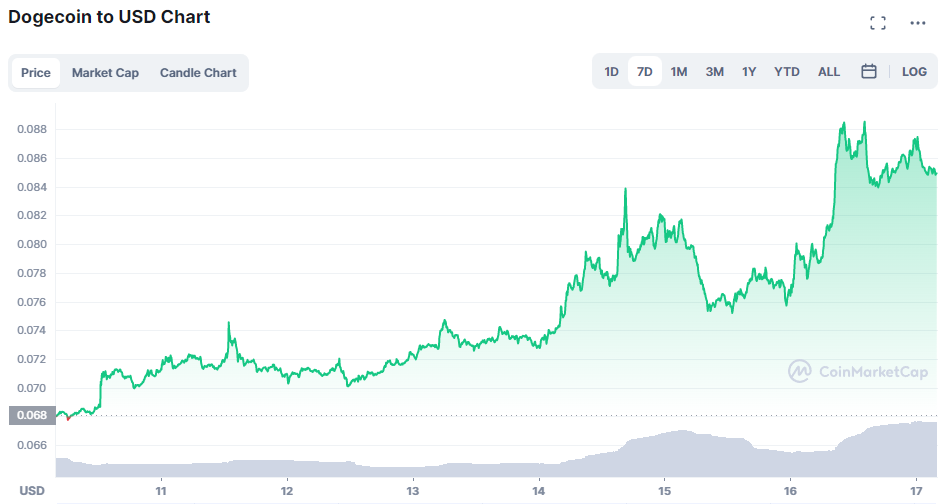 Another reason is that it is abundant, meaning unlike bitcoin or other platforms, it is not scarce and resists inflation.

Dogecoin is built on its own blockchain, which uses a Proof-of-Work (PoW) mechanism, which allows users to process transactions by solving a complex mathematical problem and later recording it on the blockchain.
There is no lifetime cap on this meme coin, meaning that users can create any number of dogecoins through mining, unlike Bitcoin, which has a 21 million lifetime cap. This makes this coin highly inflationary and not an effective store of value solution.
Dogecoin has a current price of $0.08044 and a market cap of $10 billion, both up by 3.48%.
Buy DOGE
Your capital is at risk
Solana
Founded in 2017, Solana is an open-source blockchain designed to facilitate the creation of crypto applications or decentralized apps (dApps).
It is a hybrid consensus mechanism that combines Proof-of-Stake (PoS) and a new algorithm called Proof-of-History (PoS) within its working model, which sets it apart from other projects.
Its hybrid protocol has led this public blockchain process over 710,000 transactions per second (TPS) without needing to scale. One of its other attributes to look over is its lower transaction fees or gas fees compared to other similar platforms.
This platform also possesses smart contract functionalities and hence, gives tough competition to other dominating players in the industry, such as Ethereum. Solona has a native token, SOL, which acts as a medium of transactions and reinforces the blockchain through staking.
Currently, it has a price of $43.86 and a market cap of $15 billion. Even though Solana is down from its all-time high price from last year ($258.93), it still has the potential to regain its value and come out to be lucrative in the future.
Buy SOL
Your capital is at risk
Final words
The altcoins mentioned above are on the rise and have the potential to even go beyond that in the coming times. However, it is recommended to DYOR (Do Your Own Research) as the crypto market is highly volatile, and the price can fluctuate depending on various factors.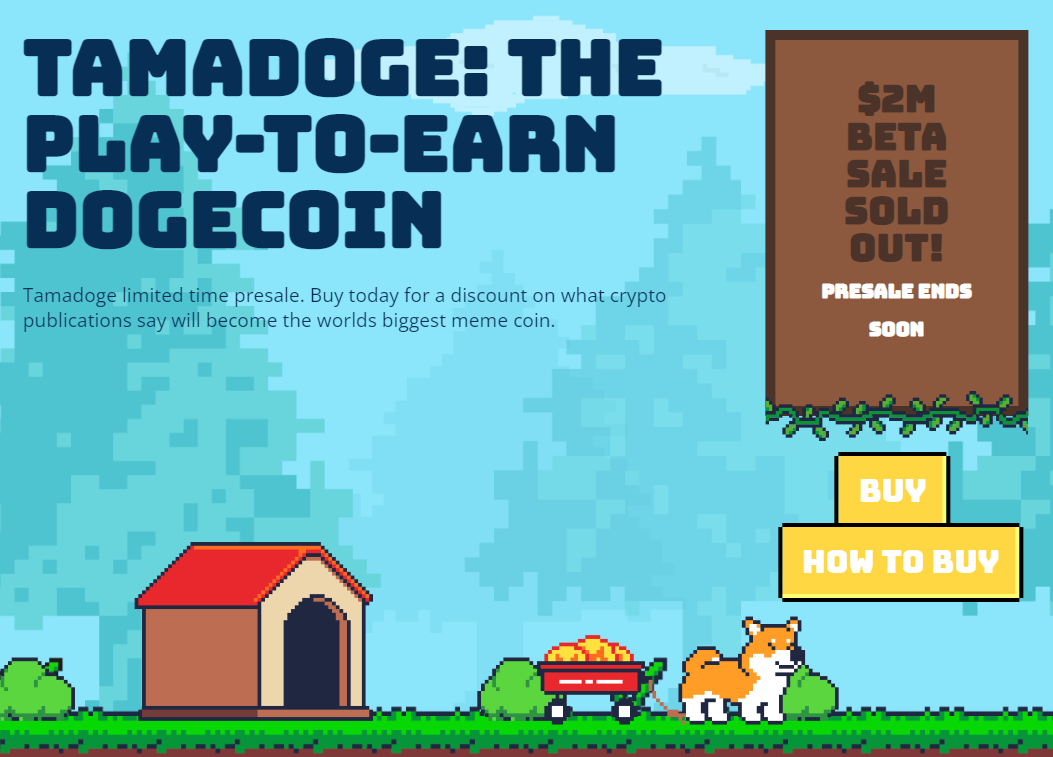 Investors can also look into Tamadoge (TAMA), a new P2E (play-to-earn) meme coin platform with better utility options. It is currently on a presale that will end on 2nd September 2022. Investors can get their hands on this platform at a discounted price before its presale ends.
Another P2E coin with massive potential like TAMA is the Battle Infinity. It aims to transform the P2E sector by offering six different gaming platforms called the Battle Arena. This platform is all set to be listed on the popular decentralized exchange, PancakeSwap, on August 17.
Visit Tamadoge
Read More
Tamadoge – Play to Earn Meme Coin
Earn TAMA in Battles With Doge Pets
Capped Supply of 2 Bn, Token Burn
NFT-Based Metaverse Game
Presale Live Now – tamadoge.io
Credit: Source link