Join Our Telegram channel to stay up to date on breaking news coverage
SafePal Wallet's SFP tokens remain under bearish pressure despite the slight uptick in the broader crypto market.
It has declined almost 7% over the past 24 hours and traded at $0.58 at 6:00 AM EST.
Trading volume is up 32% in the past 24 hours. However, this uptick in trading volume points towards a potential price boost or massive selloffs, which could further depress the price. 
Given this bearish price performance, will SFP recover its ascent?
SFP Drowns Deeper in Losses Despite Slight Bullish Activity
SafePal (SFP) posted notable strides on September 8, reaching a weekly peak of $0.6794 following the introduction of Klaytn SafePal wallets. This sharp spike marked a 19% gain from the low of $0.5708 recorded on September 7.
The limited edition #Klaytn x @iSafePal S1 wallets are selling out fast! With 100% air-gapped security, the multichain hardware wallet provides fully-offline cold storage for your $KLAY and other crypto assets!

Grab a piece of Klaytn history now: https://t.co/KPZkhOfieK pic.twitter.com/JV7mEuDKsm

— Klaytn (@klaytn_official) September 8, 2023
After instilling excitement among traders, SFP quickly regressed, surrendering to the bears with a 17% decline to $0.5619 on September 9. However, the token quickly picked up momentum, rebounding and surpassing the $0.6 price level to record a day high of ~$0.64 yesterday, September 11.
Today's price movement suggests the bears intend to stop SFP from breaching the $0.6 price level. The token has tested and breached this zone several times but failed to sustain the rally.
Launched in 2018 and backed by Binance, SafePal soared to an all-time high of $4.39, leveraging this influence. However, given the extreme crypto winter, SFP has declined like most cryptocurrencies and has shed over 86% from its ATH. 
Despite this massive price depression, SFP remains over 115% above its all-time low of $0.2674.
What Could Reignite SFP?
The prevalence of hack attacks and scams on online or software wallets has prompted the need for storing assets in hardware devices offline.
This especially applies to long-term digital assets storage as cold wallets provide more secure storage of user seed phrases and leave little loopholes for malware infiltration and scammers. 
As such, hardware wallets like the SafePal Wallet have become increasingly popular as more people demand more reliable safekeeping alternatives for their assets. 
Given the shift in user sentiment from hot wallets to cold wallets and multichain hardware wallets, SafePal has a higher chance of attracting more users in the long run, potentially boosting SFP price.
Moreover, Bsc Scan data shows SafePal (SFP) has consistently increased active holders. 
As of August 29, the token had 158,900 holders, but today, Tuesday, September 12, there are 159,180 SFP holders, representing a ~0.18% increase. 
SFP Continues to Decline – Will the Bulls Return?
From the chart above, the bears intend to push SFP to the $0.512 support level, evident in the long red candlestick formation. If they succeed, SFP could be down to the $0.039 price level.
Moreover, the asset is still under bearish pressure as the relative strength index declining from 61 to 53 towards the oversold region suggests a dwindling buying demand. 
Also, the moving average convergence/divergence has regressed below the signal line.
These signals suggest that SafePal SFP could record more losses before the day ends if the bulls fail to regain momentum.
However, investors can consider alternative projects like BTCBSC with higher short-term upside potentials.
BTC BSC Gains Massive Attention as
Presale Hits $1.2m Milestone
A new cryptocurrency project known as Bitcoin BSC ($BTCBSC) has started its token presale to replicate the success of the original Bitcoin's bull run. 
This project launch follows a series of recent Bitcoin-related derivative projects, including Bitcoin Cash, BTC 2.0, and BTC20, all yielding substantial returns exceeding five times the initial investment for early participants.
Bitcoin BSC is similar to the original Bitcoin in terms of its total supply, which consists of 21 million tokens. But what sets it apart is its staking utility, an environmentally friendly approach to reward users.
The project's presale is structured in two phases. In the initial phase, 4 million tokens will be available, followed by the sale of an additional 2.125 million tokens in the second phase. 
Notably, both phases will maintain the historical 2011 price point of Bitcoin at $0.99. The presale has garnered significant attention from investors, raising $1.2 million within a few days of launch.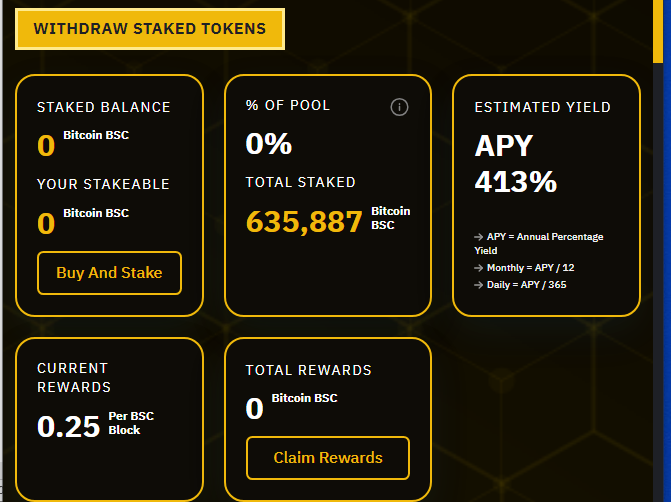 $BTCBSC allows users to generate passive income through a staking mechanism mimicking the original Bitcoin's block reward schedule. Currently, staking $BTCBSC offers an incredibly high yield of 0.25 tokens per block, resulting in an astonishing Annual Percentage Yield (APY) of 413%. 
In addition, over 635,000 tokens have been staked. To put this into perspective in terms of monthly returns, it amounts to over 34% returns each month. BTCBSC distributes staking rewards every 10 minutes, with 69% of the total supply dedicated to staking over 120 years, mirroring Bitcoin's block reward schedule.
Although the APY will decrease as more participants get involved, it remains a significantly more lucrative strategy to draw more users.
This frequent compounding incentivizes token holders to keep their assets long-term, discouraging short-term speculative trading. Interested users can join the token sale by visiting this website.
Related News
Wall Street Memes – Next Big Crypto
Early Access Presale Live Now
Established Community of Stocks & Crypto Traders
Featured on BeInCrypto, Bitcoinist, Yahoo Finance
Rated Best Crypto to Buy Now In Meme Coin Sector
Team Behind OpenSea NFT Collection – Wall St Bulls
Tweets Replied to by Elon Musk
Join Our Telegram channel to stay up to date on breaking news coverage

Credit: Source link