With The Merge on the cards, Ethereum's price has been wavering—both—up and down. Even though the token has mostly been trading in green post the Bellatrix upgrade date announcement, it has not been able to negate its weekly 8% loss.
Well, the macro-crypto environment cannot be solely blamed. Global uncertainties continue to plague the broader financial landscape. Ethereum has, notably, been sharing a strong relationship with the stock market. On-chain data and analytics platform Santiment recently highlighted that ETH's price continues following "tightly" with the S&P 500. Sellers have evidently been having an upper hand in the latter market over the past week, and Ethereum continues to reflect similar movements.
As illustrated in the chart below, the S&P 500 is currently trading around its breakout zone. So, for Ethereum to wipe off its bearishness, a successful retest is quite critical. Elaborating on the same, Santiment noted,
"If indeed S&P leads the way, then it's important that the retest levels see a bounce for bullish continuation else it's highly unlikely that ETH will hold its ground."
Furthermore, in contrast to its price, Ethereum's network growth has been declining steadily since the beginning of August. The same has resulted in the formation of a non-healthy divergence. Per Santiment,
"… it indicates that there's very little new market participants coming in to support the price. Everyone that wanted a position is likely already in."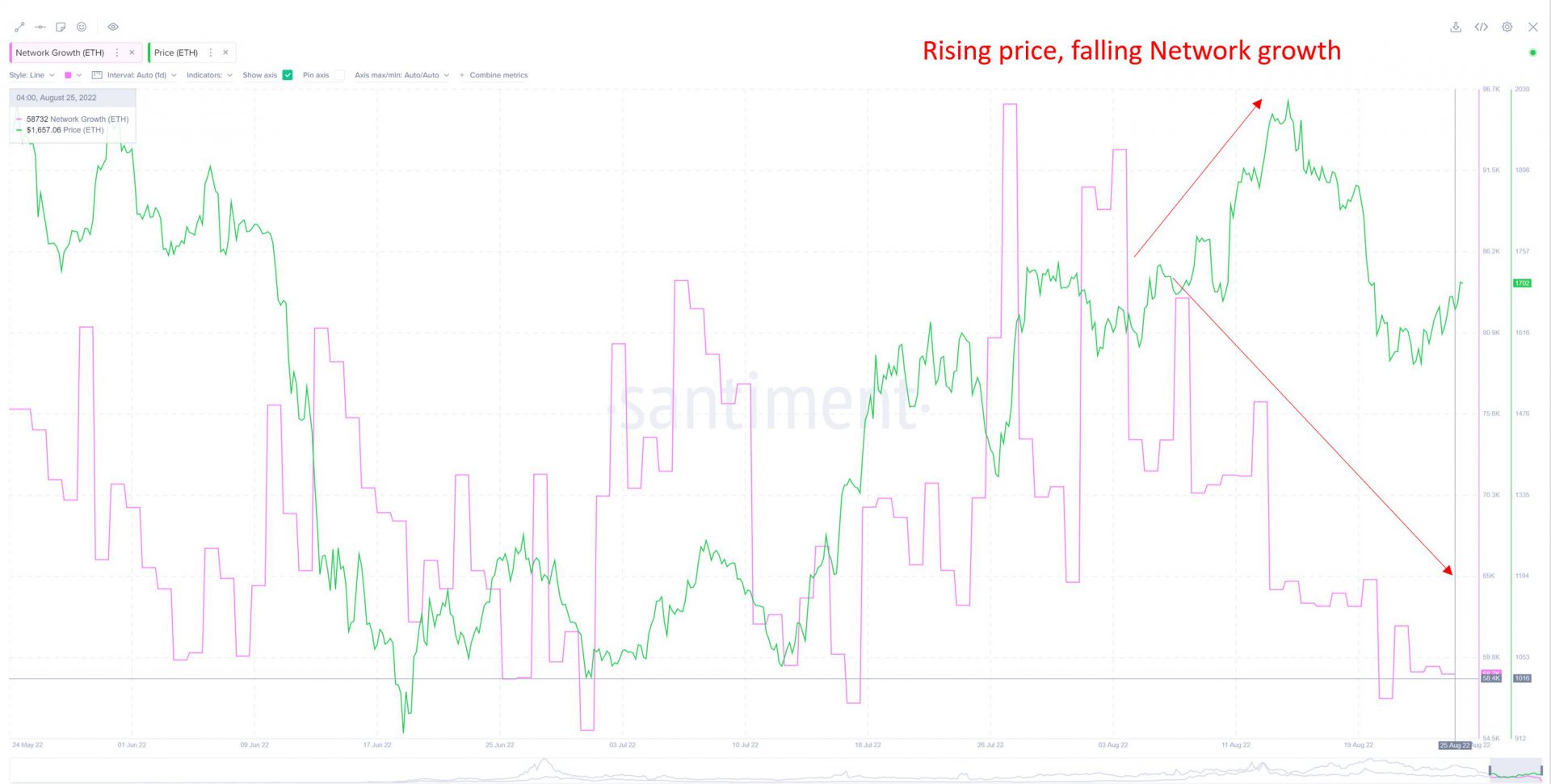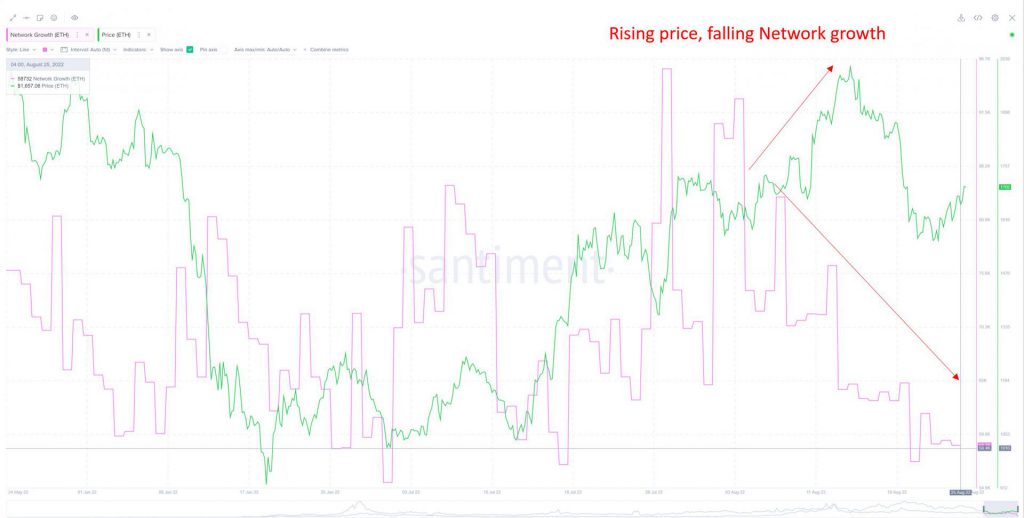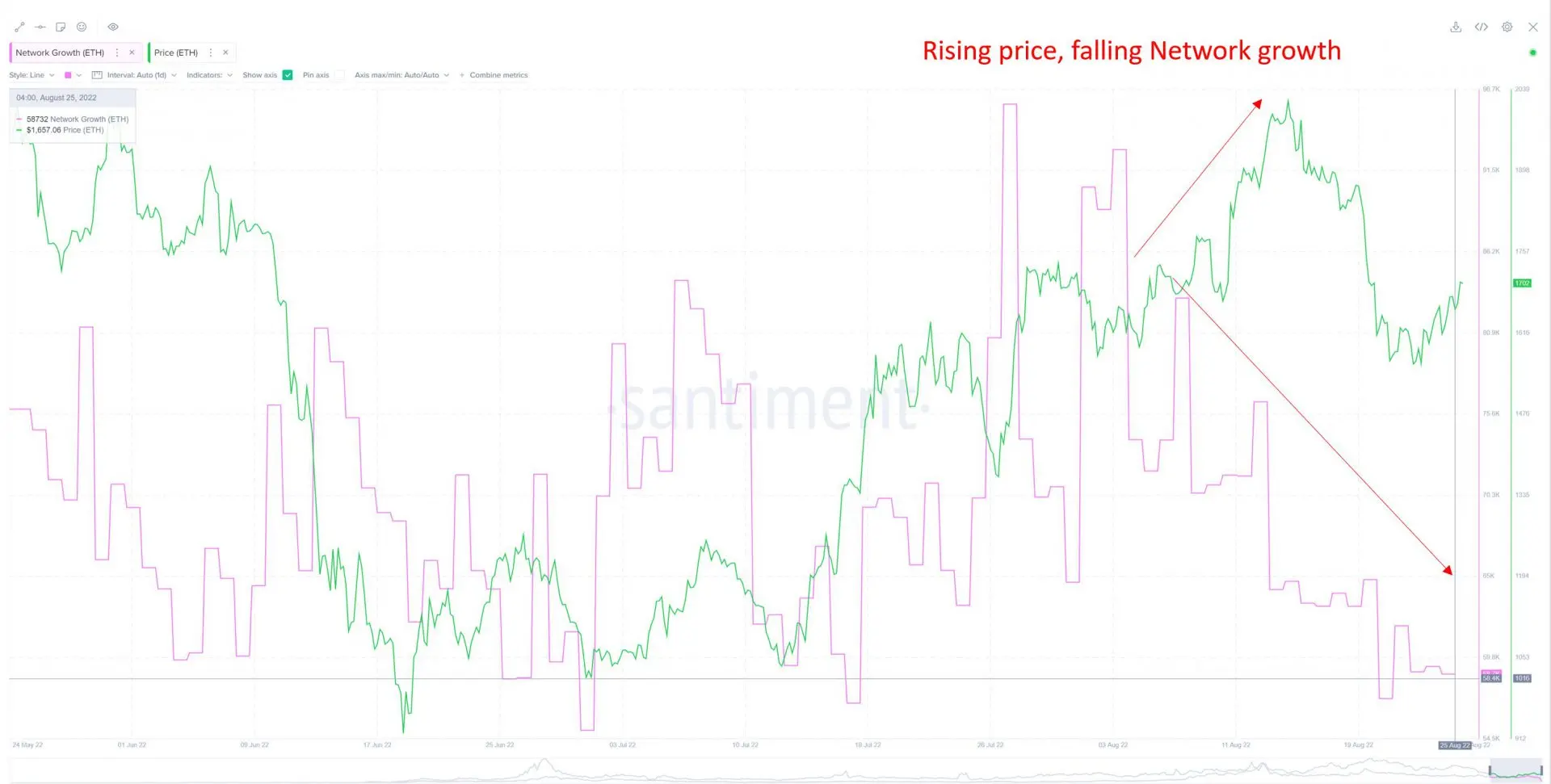 The MVRV ratio, however, continues to hover in the neutral zone after bottoming out in the opportunity zone. This indicator, as such, measures the short-term profit/loss of HODLers. From the current level, if the MVRV continues inclining, Ethereum will likely step into the danger zone, for participants will be triggered to cash-out profits.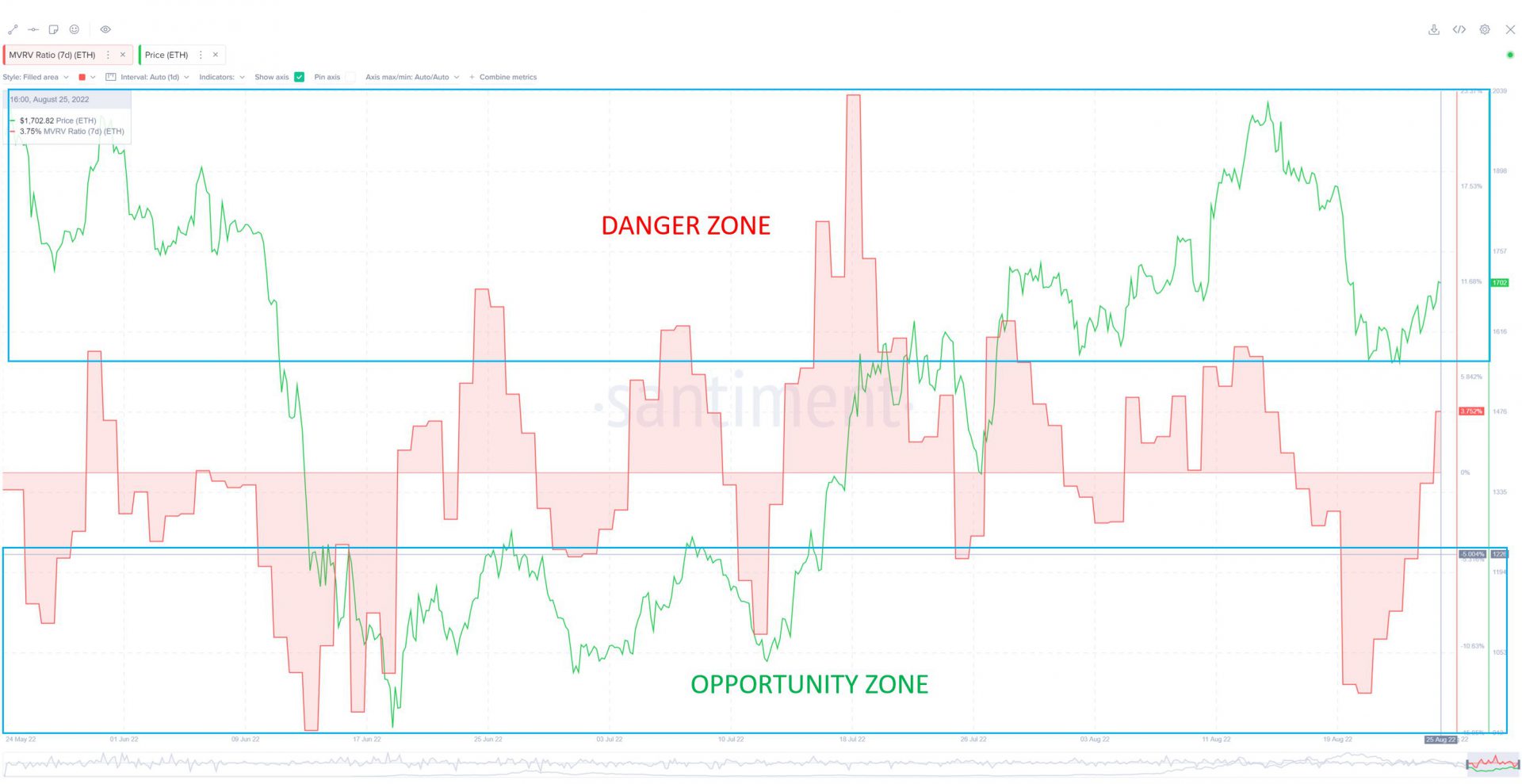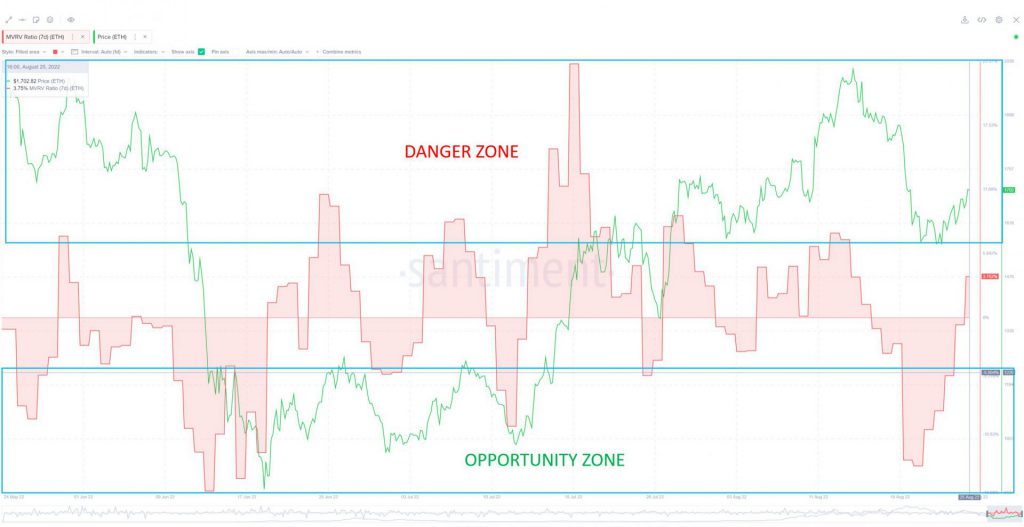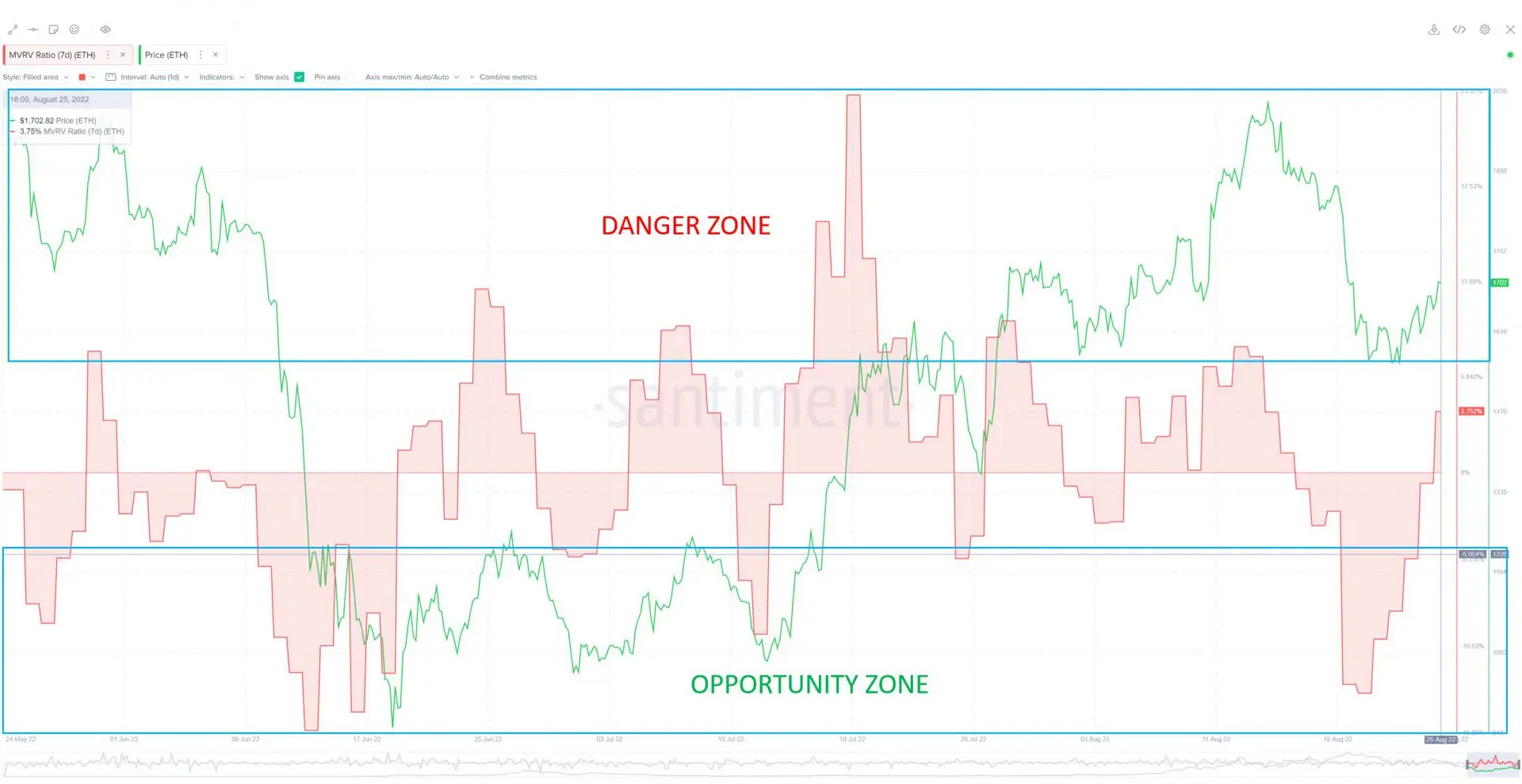 Coinbase to launch Nano Ethereum Contracts
Even though the said signs are not very appealing, prep for The Merge has been going on in full swing. Coinbase, for instance, is all set to roll out its Nano Ether futures contract [ET] on 29 August. Per the official announcement,
"ET futures will be accessible for trading via several leading third-party retail brokers and clearing firms upon its launch… Sized at 1/10th of an ether, the contract unlocks another opportunity to trade the price of a popular digital asset with less upfront capital than traditional futures products."
In fact, in the beginning of the month, the exchange also started offering Ethereum staking to its institutional domestic clients in the United States on Coinbase Prime.

Credit: Source link