Join Our Telegram channel to stay up to date on breaking news coverage
The global market capitalization has experienced a slight 0.41% decrease over the past 24 hours compared to Monday's report. The market capitalization now has a total value of $1.03 trillion. While fluctuations are common, the crypto market remains dynamic and active.
The total trading volume of the crypto market saw a substantial surge in the last 24 hours. It reached an impressive $36.15 billion. This marks a significant 78.26% increase in trading activity, indicating heightened investor interest and participation.
Decentralized finance is notable in the crypto market, contributing to the trading volume. DeFi trading volume currently stands at $2.21 billion, representing 6.11% of the total crypto market 24-hour trading volume. The continued growth of the DeFi sector demonstrates its increasing significance in the broader cryptocurrency landscape.
Stablecoins dominate the trading volume within the crypto market. The total trading volume for stablecoins has reached $33.78 billion, accounting for 93.45% of the overall crypto market 24-hour trading volume.
Bitcoin maintains its prominence in the market. Bitcoin's dominance currently stands at 48.94%, reflecting a 0.34% increase for the day. This indicates that Bitcoin continues to exert influence and is a benchmark for the broader cryptocurrency market.
Next Cryptocurrency to Explode
Asian stock markets made modest gains on Tuesday, as statements from central banks in China and Japan briefly halted the dollar's advance. It offers traders a respite before releasing U.S. inflation data that could impact the Federal Reserve's future rate decisions. Overnight, the yen posted its strongest performance against the dollar in two months following remarks by Bank of Japan Governor Kazuo Ueda. He suggested that policymakers could have sufficient economic data by year-end to assess the need for short-term rate increases.
1. yPredict (YPRED)
yPredict recently unveiled the beta launch of WriteMingle, its latest product aimed at streamlining content creation and collaboration. As a prominent provider of AI-powered analytics solutions, yPredict is excited to introduce this significant addition to its offerings, marking a substantial expansion beyond crypto analytics. While the WriteMingle Beta Testing Program is open, eligibility requires participation in the YPRED token presale.
Building upon the success of its yPredict Analytics product, set for release following the token listing, the yPredict team has been diligently laboring to develop cutting-edge tools tailored to various industries. WriteMingle represents the second product to emerge from these endeavors, following the launch of its initial offering, the Backlink Estimator, which utilizes AI to generate backlink strategies.
WriteMingle is designed to facilitate smart content creation, plagiarism checking, and SEO optimization, streamlining the process of producing high-quality content. Raj Sharma, CEO of yPredict, expressed enthusiasm for the beta launch, stating, "Our goal with WriteMingle is to enable individuals to focus on the big picture of content strategy and creation, while entrusting AI to handle the time-consuming tasks such as proofreading and SEO optimization."
This content creation and management software harnesses advanced natural language processing and generative AI to assist individuals, teams, and enterprises to swiftly and effortlessly generate top-notch written content. With its user-friendly and intuitive interface, WriteMingle aims to democratize content creation, offering users AI-generated content ideas and outlines alongside real-time grammar and plagiarism checks. Additionally, WriteMingle optimizes content to adhere to SEO best practices by analyzing word count, headings, meta descriptions, and more.
yPredict has successfully raised $3.81 million in its presale for its cutting-edge AI-powered trading signals and sentiment analysis platform, yPredict Analytics, through selling its $YPRED token. Initially priced at $0.10 during the penultimate stage of its presale, with a listing price of $0.12, the $YPRED token offers access to invaluable tools that empower traders with a competitive advantage. 
The anticipation for yPredict Analytics is palpable, with over 20,000 individuals waiting for its release. Developed by a team comprising traders, developers, quants, and analysts, yPredict is meticulously designed to cater to various industries, including healthcare, finance, and human resources, equipping users with the means to formulate winning strategies in rapidly evolving markets.
Visit yPredict.
2. Trust Wallet Token (TWT)
The Trust Wallet Token (TWT) is taking the spotlight in the crypto market early on Tuesday as the standout performer. The TWT recorded remarkable gains of 8.53% in the last 24 hours. This feat solidifies its position as the next cryptocurrency to explode.
Trust Wallet Token (TWT), associated with the popular Trust Wallet, has its trading volume surging by 445.07% to 67,472,840 in the last 24 hours. It marks a significant uptrend that has caught the attention of investors and crypto enthusiasts alike. This surge comes when many cryptocurrencies grapple with market volatility and uncertainty.
The precise reasons behind TWT's impressive rally are multifaceted and may include a combination of factors such as market sentiment, increased adoption, and developments within the Trust Wallet ecosystem. The TWT token has shown considerable resilience and strength through the bearish period. This is why the token captured the interest of traders seeking growth opportunities.
While the cryptocurrency market is known for its inherent volatility, exercising caution and conducting thorough research before investing in any digital asset is essential. TWT's recent performance serves as a testament to the dynamism of the crypto landscape and the potential for substantial gains.
As Trust Wallet Token (TWT) continues to make headlines, investors and observers will closely monitor its trajectory to gauge its potential for sustained growth and impact on the larger crypto market.
3. Optimism (OP)
Optimism (OP) has embarked on a bullish trajectory, with analysts anticipating this trend to persist throughout 2023. Most of this year, the network and its associated token, OP, have grown substantially. As of August 9, 2023, Optimism was valued at $1.68, showcasing resilience and promise. Over the past week, Optimism's price ranged from a low of $1.61 to a high of $1.80.
In the past 30 days, the value of Optimism's cryptocurrency has surged by an impressive 42%. The cryptocurrency is poised for further appreciation, with a market capitalization of $1.21 billion and a robust trading volume of $145.52 million. According to Optimism's price predictions, it has the potential to reach $2.21 by year-end.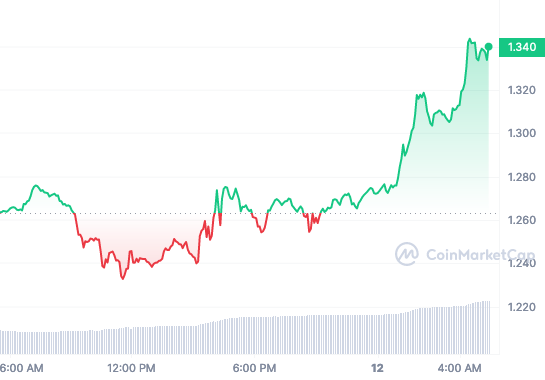 Optimism has been one of the most prominent players in the blockchain industry, notably due to its successful incentive program. This program has played a pivotal role in driving the protocol's cumulative trading volume to an impressive $3.8 billion. Analyst Ryan Holloway highlighted the substantial impact of Optimism's incentive program, emphasizing the availability of OP trading rewards and incentives on various platforms, including Polynomial.
The results of Optimism's incentivization strategy have been nothing short of remarkable, resulting in a staggering 23-fold increase in trading volume for the protocol. While this achievement is commendable, it also raises questions about the composition and nature of this newfound trading activity.
Bulls are expected to have a firm grasp of the market in due time and push the token permanently into a bull run.
4. Astar (ASTR)
The weekly price prediction for Astar reveals a resilient rebound from lower levels, with a continuous uptrend driven by bullish momentum that has successfully defended previous lows. Meanwhile, on the daily charts, ASTR's price appears to form a bearish flag pattern, trading within defined boundaries. The current price trajectory sees upward movement, with sellers exerting pressure near the upper boundary and buyers displaying aggression near the lower edge.
Regarding technical indicators, the short-term outlook leans towards buyer dominance, as evidenced by consistent support from the 50-day moving average. The Relative Strength Index (RSI) has consistently remained in the upper zone, further indicating the strength of buyer activity. However, it is important to note that sustaining the current momentum and defending previous lows will require continued buyer support.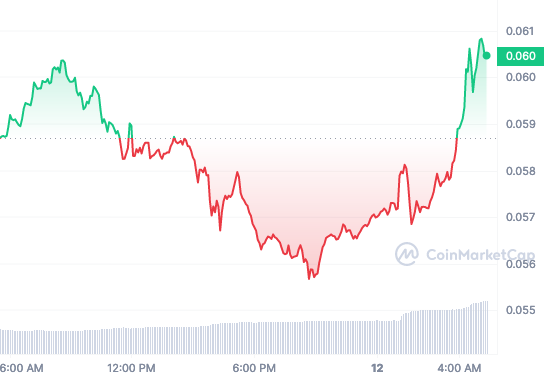 Astar Network, a web 3.0 platform, empowers developers to create dApps and Layer-2 solutions focusing on interoperability and scalability. The platform accommodates EVM and WASM smart contracts, facilitating seamless interaction on a parachain. Astar Network provides developers with essential web 3.0 infrastructure, financial incentives, incubation programs, and technical assistance.
The Astar price is trading at $0.05 and is on an upward trajectory, maintaining the bearish flag pattern as observed on the daily chart. Analysts suggest that ASTR's price may sustain itself within this channel, drawing support from the lower boundary. The overall price trend remains positive as long as the cryptocurrency remains within this channel.
Read More
Wall Street Memes – Next Big Crypto
Early Access Presale Live Now
Established Community of Stocks & Crypto Traders
Featured on BeInCrypto, Bitcoinist, Yahoo Finance
Rated Best Crypto to Buy Now In Meme Coin Sector
Team Behind OpenSea NFT Collection – Wall St Bulls
Tweets Replied to by Elon Musk
Join Our Telegram channel to stay up to date on breaking news coverage
Credit: Source link