Join Our Telegram channel to stay up to date on breaking news coverage
Internet Computer (ICP) is up by 8.92% in the past 24 hours. The price has recorded a $0.3742 increase. The trading volume has also increased in 24 hours to $41,005,447.35, which is a 134.87% increase.
ICP is currently ranked number 36 in the cryptocurrency market. While it is far off its all-time high of $750.73, the token will likely see a gradual rather than sudden increase.
Is Internet Computer A Good Buy?
ICP is an innovative blockchain project that rose to prominence in 2021 at the height of the crypto bull run. Its first trading day yielded outstanding results, with a market cap exceeding $10 billion.
Dfinity Foundation – a Swiss-based company, is in charge of Internet Computer. The project has not deviated from its original intention to reform smart contract technology. Instead, it optimizes the speed of smart contract transactions while minimizing storage costs.
ICP operates on a chain of cryptographic protocols linking independent nodes to blockchains. These blockchains can then execute the smart contracts and canisters.
Users can build apps without connecting to oracle networks like Chainlink with the canister on the network. These canisters can process and store vital data with proper handling.
ICP provides users with several features that have increased its real-time use. Special features include its eco-friendly platform, unlimited scaling, bitcoin liquidity, and gas fee scaling.
Although it has enjoyed such popularity, ICP has struggled for recognition in the blockchain community. Its total number of transactions has increased however its adoption for projects has declined.
Most developers have sentimental attachments to other platforms like Ethereum, Avalanche, and Solana. However, deciding which platform to use is a product of investor sentiment and preference.
Internet Computer Price Prediction
Internet Computer has enjoyed a positive price trend in the past 24 hours. Here is all you need to know about its next possible moves.
Resistance And Support
ICP recently moved in a neutral sideways trend. However, the chart's green candle formation shows a possible price rise.
Internet Computer is presently trading at $4.52, bouncing off the support level of $3.50. The closest resistance level is at the $5.80 mark. If the coin can break through the $5.80 level, it might have enough momentum to test the $9.8 and $15.6 resistance levels.
However, the coin will likely continue in a sideways trend or drop back to the $3.50 support.
Internet Computer Price Prediction With Technical Indicators
Internet Computer has gained in the last 24 hours. However, it is still trading below the 200-day SMA descending on the chart. It is also close to the 50-day SMA.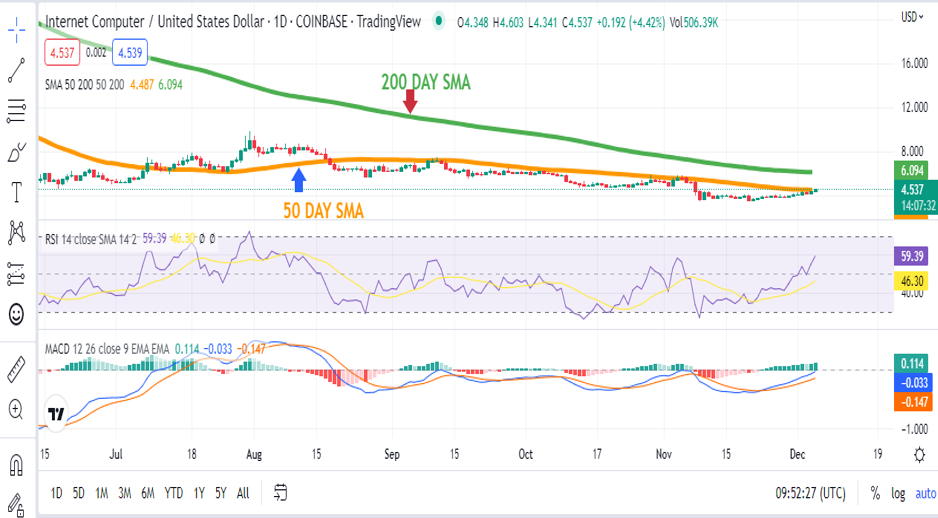 The RSI value is 59.43, which shows neutrality in the current market.
The MACD shows signs of a possible revival – although it is still tentative. It is currently below its signal line and reflects the neutrality observed in the market.
Expect the price of ICP to drop to the closest support of $3.50 again for the short term. It will possibly rally to the $5.80 mark in the next month.
Projects That Can 10x Your Investment
Investors know that the market is always active and evolving quickly. So here are some recommended projects you can back for profitable returns.
 Dash 2 Trade (D2T)
This platform serves as a cryptoanalysis tool for decentralized trading.
Users can track and back-test their trading strategies to measure their success rate. In addition, traders can carry out automated transactions on the platform.
Once the presale is over, D2T will list on BitMart and LBank exchanges. D2T is the currency that will fully unlock all the features and services on the platform. The presale has amassed over $8.2 million.
Calvaria (RIA)
Calvaria is an innovative game that is free to play. It stands out from the regular pay-to-earn gaming available by issuing NFTs to users who sign up. Users are not required to commit finances for gaming on the platform.
The network aims to provide better Web 3 solutions for gamers. Unfortunately, the high barrier to entry suffered by non-crypto gamers has inhibited the adoption of Web 3 games.
Calvaria has outlined plans to give non-crypto players full access to all in-game features. In addition, competing players are rewarded with trade cards and NFTs.
The native token RIA ERC-20 is the governance token that will power the platform.
RIA has attracted massive investor interest, with the presale already in stage 5 and almost sold out. The presale success is around 2.2 million and counting.
RobotEra (TARO)
RobotEra is another free-to-play game that redefines virtual reality gaming. For example, users can build their planet in the Metaverse.
Each player will represent the core RobotEra NFTs in-game as a robot. Players can team up; with other robot buddies to rebuild the destroyed planet Taro. It increases the value of the Metaverse plots of land for gamers.
Players can earn active and passive money from quests and other activities like mining, staking, concerts, and tree planting.
Link Labs is providing the project with financial and advisory support for success. As a result, the presale is one of the highest in 2022.
TARO, the native token is the multiverse's currency. It is purchased directly with USDT or Ethereum. It is currently worth 0.020 USDT, with the first presale wrapping up and realizing over $348,000.
Conclusion
The crypto market is aflame with innovative tokens all seeming linked to the metaverse. While there are no certainties, investors still look for avenues to profit.
Internet Computer's price will see some changes in the coming days. Therefore, it is advisable to also invest in projects with potential at their presale stage.
Dash 2 Trade, Calvaria, and RobotEra are quality projects that can give investors profit in the coming years.
More News
Join Our Telegram channel to stay up to date on breaking news coverage
Credit: Source link