The last couple of years have been crazy for meme coins. The attention they've gotten has far left the decade-old Bitcoin, and it's fair to say that meme coins are investors' favorite altcoins in 2022. People continue to invest in these meme coins despite knowing they are practically a joke.
This excitement has led to the inception of hundreds of meme coins, many of which have made it big in less than a year. And one such coin is Hoge Finance.
On the face of it, there isn't anything solid about the coin. But the attention it has gotten makes one wonder- what's so special about it? Well, we too are curious. Let's take a look at the specifications, value propositions and price prediction of Hoge Finance, to decide if it justifies being ranked 9 among the top meme coins.
What is Hoge Finance?
Commonly referred to as a better alternative to Doge, Hoge Finance is a deflationary cryptocurrency token launched on February 7th, 2021. HOGE is an ERC-20 coin, a technical standard for all smart contracts based on Ethereum and is also bridged to the Binance Smart Chain.
While it's been only a few years since it came out, the recognition it has gotten is impressive.
In 2021, altcoins managed to account for a higher percentage of investors' portfolios, mainly because of the fact that they provided exponential returns, which other major market cap cryptocurrencies failed to do. These altcoins further saw a lot of distinction, with meme coins being the primary altcoins people choose to invest in.
DogeCoin and Shiba Inu led the movement, by offering users unfathomable returns before they decided to take a nosedive. Since then, the value proposition of meme coins remains under question, as, unlike other major coins, they aren't backed by any problem-solving technology, but continue to stay relevant only through the generosity of the community.
Hoge Coin, too, comes under the same bracket.
The coin does not have a developer wallet and operates without a revenue structure. The team members, at the launch, weren't allotted any share of the tokens as it was projected to be entirely community driven. It is functional through the contribution of the community, who work together with an estimated 100 developers to meet the goals of the project.
Hoge Finance- Value Proposition
The crypto market is known to favor a minority, by the virtue of its design, while the rest don't make significant progress. Be it trading or any other crypto-related dealings. Few projects make it big, and so do the participants and the others fail to make an exponential gain.
Hoge Finance plans to create a self-stabilizing marketplace where everyone can win. Yes, you read that right. They plan to combine memes and frictionless yield farming to achieve this objective. Under this mechanism, for every purchase, a percentage of the tokens are burned and every holder of HOGE will be receiving a reward out of this.
Essentially, they keep the system operational, by literally keeping it operational. To be more precise, by following the above mechanism, the more the coin is being used the more money the rest of the holders will make.
Through token burning and redistribution, the tokens released in the ecosystem will be used for transactions and users will continue to generate profit from it.
This is not the first time a token has followed this method. However, a lot of users invested in these coins have fallen victim to fraudulent practices, as many of them turned out to be scams, where the founders exited the project while they could. Investors are therefore quite critical about the fundamentals of a project and prefer to invest in projects that have a legitimate mission and a conceivable roadmap.
For now, let's see what Hoge brings to the table.
Communities: If there's one aspect where Hoge Finance shines, it is the communities. Despite being launched only a few years back, the project has garnered some serious attention and following across social media. The credit for this can be attributed to the impressive marketing practices they've employed.
For starters, they create memes that go viral in no time. Further, they also have educational videos explaining the functions of altcoins. They've also created multiple mobile apps incentivising the users to become a part of the community. And lastly, they've also created a space program.
The Hoge Space Program: The Hoge team in an announcement said that they've created a Space program with the plan to develop a CubeSat platform that will be used to send crypto technologies to space. While few believe that the space program milestone is idealistic and overplayed, if it turns out to be a success, the coin could very likely become one of the most successful meme coins of all time.
NFT Marketplace: Hoge has initiated minting NFTs, with two events held so far. The developers of the project are also working on a Hoge-owned NFT marketplace, focusing primarily on sports. They're targeting esports and gaming by building online games with playable demos.
As per a recent statement, "The NFT marketplace is expected to be a large revenue source for HOGE Finance when integrated with the existing e-commerce and merchandise platform already available on HOGE's website."
Hoge has been very ambitious with its goals, however, only time will reveal where they help the project land. Here's a price prediction for those interested to invest.
HOGE Price Prediction
HOGE started off quite impressively in the initial months of its launch and replicated the same pattern later that year when it achieved an all-time high of $0.0009634.
As of today, the coin is trading at $0.00005609 with a market cap of over $22 million.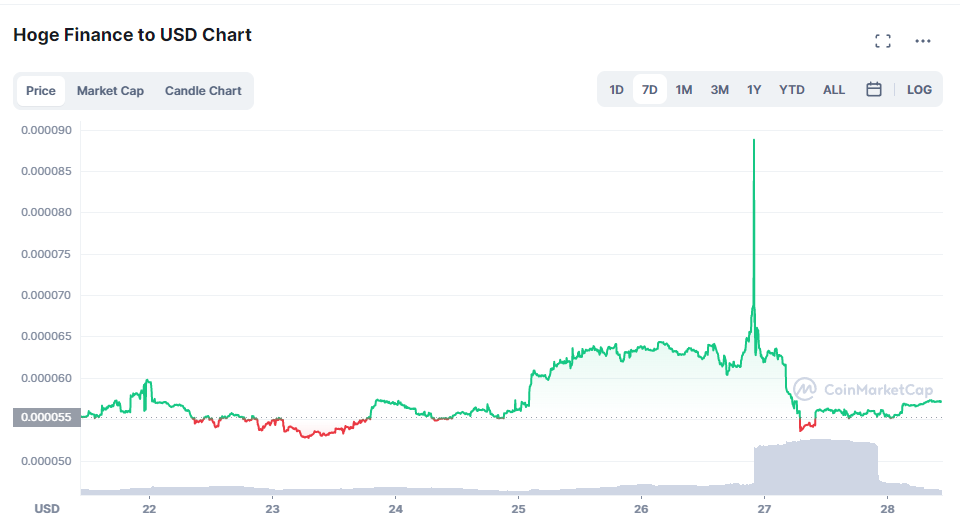 As mentioned earlier, all the credibility of the coin comes from its community. Hence, the only way the coin can increase in price is if the community decides to invest heavily in it. Historically speaking, the coin has witnessed dramatic highs followed by concerning lows, and therefore any rise in the price shouldn't be expected to be gradual. One way the coin could increase in price is if an event supplements it, such as the tweet from Elon Musk for Dogecoin. If this happens, the coin can potentially touch $0.0001 by the end of this year.
On a long-term basis, the coin could reach $0.005 by the end of 2025. But this remains highly speculative.
In conclusion, HOGE does not appear to be the best meme coin investment. If you're willing to invest anyways, you should consider other options providing superior utility in comparison. Such as Tamadoge.
Buy Hoge on Bitmart
TAMADOGE
Meme coins suffer from a lack of utility they can provide, and Tamadoge counters exactly this. The token combines meme coins with a play-to-earn gaming mechanism, generating consistent rewards for users through fun gameplay.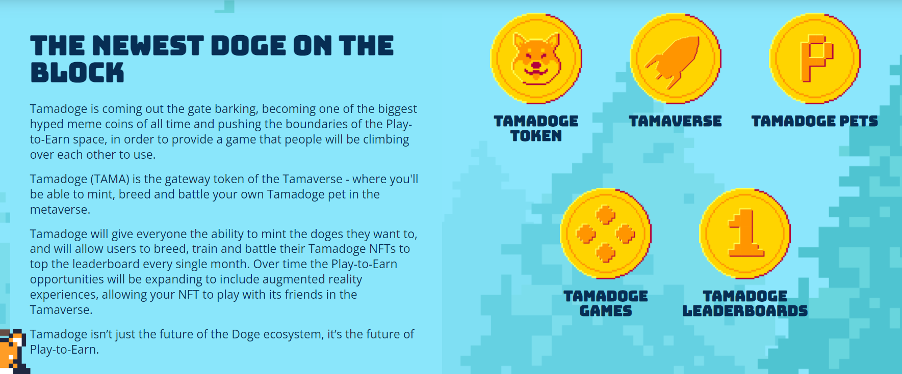 In the game, players will be able to mint, breed and take care of their Tamadoge pets. Users can also battle these pets, who come with their unique set of skills and weaknesses and earn rewards by climbing on the leaderboard.
These pets are in the form of NFTs, which are minted with the pets as babies, which the owners must look after till the time they're mature. Once they are mature, they can participate in the battles against other NFT holders with their own Tamadoge pets.
Five per cent of the amount of a transaction is burnt immediately and this ensures a constant reducing supply of the coin. Further, there is no transaction tax which enables users to acquire a higher percentage of profit when buying or selling their TAMA tokens.
In addition to that, the team also plans on creating an AR app that'll enable users to interact with their Tamadoge pets in the real world. This will be part of the metaverse experience the project aims to provide.
Buy Tamadoge
Should you buy TAMA over HOGE?
Investors choose meme coins to invest in primarily because they offer exponential returns, unlike other coins. The future price trajectory of Hoge is under question and we can't be too sure of what will follow.
Tamadoge, on the other hand, offers much optimism when it comes to the price as there's a lot of utility backing the progress of the project. It is still undergoing a presale and has raised close to $9 million so far. This is a testament to the credibility of the project.
In comparison, Tamadoge is a much better alternative than HOGE. Investors willing to invest can expect good returns.
Read More
Where to Buy Dogecoin?
Where to buy Shiba Inu?
Best NFT Marketplaces
Tamadoge – Play to Earn Meme Coin
Earn TAMA in Battles With Doge Pets
Capped Supply of 2 Bn, Token Burn
NFT-Based Metaverse Game
Presale Live Now – tamadoge.io
Credit: Source link