Join Our Telegram channel to stay up to date on breaking news coverage
The Gas token price is up around 700% in two weeks but has slumped 5% over the last day to trade at $21.431 as of November 10 at 10:05 EST.
It rallies along with the rest of the market, as the crypto community speculates that these could be the early days of the much-anticipated bull market.
Noteworthy, the Gas token recorded striking pumps between November 9 and 10, recording 65% and 70% price surges, respectively. This saw up to $6.84 million and $10.07 million short positions liquidated in a short squeeze.
In the last 24 hours, however, more long positions have effectively been liquidated compared to shorts at $1.57 million against $899,000 shorts.
With Gas token featuring among the top liquated tokens on Binance exchange, almost 8,000 traders were liquidated for a combined total of $150.05 million, including Bitcoin, Ethereum, and Solana positions.
Trong 24 giờ qua, 77,199 trader bị thanh lý, tổng số tiền thanh lý là $150.05 triệu USD. Các mã bị thanh lý hàng đầu gồm: #BTC, #ETH, #SOL, #GAS….#Binance dẫn đầu với 64.99 triệu USD, theo sau là #OKX và #Bybit lần lượt là 41.75 triệu USD và… pic.twitter.com/NPgGJDAYi9

— Stella Nguyen (@iamStellaNguyen) November 11, 2023
Following the hard pump with Gas token closing the week on a tear, perpetual traders are already anticipating a correction. Shorts have become more than longs as the GAS price now treads south.
$59.90k #GAS shorted at $19.05 (USDT) on Binance USDⓈ-M.#GAS $GAS #crypto #whale #alert #coinscreener
For real-time Whale insights 👉 https://t.co/kNdoj6JDjc

— CoinScreener.ai (@coinscreener_ai) November 11, 2023
Meanwhile, the token continues to trend on social media, featuring among the most searched tokens as of November 11, 2023.
🔥list of most searched tokens currently November 11, 2023 #Crypto #GAS #FTT #LUNA #LUNC #Solana pic.twitter.com/XEZ2DiAAZM

— PVBCrypro (@PhanBinh1309) November 11, 2023
Why The Gas Price is Pumping
The hard pump in Gas token price is attributed to Korean traders, who are intrinsically fond of pump–and–dump trading strategies. On-chain investigator Lookonchain anticipated the surge, sharing a post on Crypto X recently ahead of the Upbit D Conference.
2/ We analyzed the participants in #UDC(Upbit D Conference) and compiled 20 tokens related to the #UDC.

These 20 tokens will most likely rise before $UDC or during $UDC.https://t.co/Yu8xWraTnD pic.twitter.com/hZL6AmscGG

— Lookonchain (@lookonchain) November 8, 2023
In the prediction, Lookonchain alluded to anomalous price fluctuation on the Korean exchange, saying, "As we know, a lot of the recent rise in altcoins has been related to the Korean exchange Upbit." In a follow-up post, the firm has confirmed the strong uptick in Gas price, saying, "Almost all of the 20 UDC(Upbit D Conference)-related tokens we shared yesterday are rising."
Almost all of the 20 #UDC(Upbit D Conference)-related tokens we shared yesterday are rising.

Among them,$GAS increased by 56%$MINA increased by 13%$NEO increased by 9%$LINK increased by 8%$IOTX increased by 8%https://t.co/BFNRBEFwzr pic.twitter.com/WLtxbjGtxE

— Lookonchain (@lookonchain) November 9, 2023
Regarding Upbit's unusual price actions, CryptoQuant CEO Ki Young Ju tried demystifying why Korean traders have taken a liking to pump-and-dump schemes, indicating that it is due to the region's "Very strict capital controls, blocking arbitrage opportunities between global exchanges."
Fun Fact 3.

Korean crypto traders love pumping & dumping altcoins, ironically. Got this clip from my Korean friend. pic.twitter.com/63Ewssu5VO

— Ki Young Ju (@ki_young_ju) March 30, 2023
As such, this should be cautionary for investors to be wary of possible manipulation so that they can avoid being caught as part of exit liquidity.
Gas Token Price Prognosis With Possible Manipulation In Play
Measured from a market range beginning from $2.029 to $29.989, Gas token price is exchanging hands for $21.432 after a rejection from the 23.6% Fibonacci at $23.39. The odds for a slump continue to increase, hence the inverted Fibonacci tool to show direction.
Increased selling pressure could send Gas token price to the 38.2% Fibonacci at $19.30, or a lower to retrace the 50% Fibonacci at $16.00. In the dire case, the slump could stretch for the altcoin to tag most important Fibonacci, the 61.8% at $12.7.
A break and close below the 61.8% Fibonacci could extend the retracement towards the 78.6% Fib at $8.01, or in the worst-case scenario, test the support floor at $2.02. This would not only invalidate the bullish thesis, but also plunge the altcoin back in the consolidation phase.
The position of the Relative Strength Index (RSI) supports this outlook, showing GAS token is massively overbought. Its inclination to the south corroborates the thesis, suggesting momentum is already falling. This comes as longs continue to close their position while shorts take profits.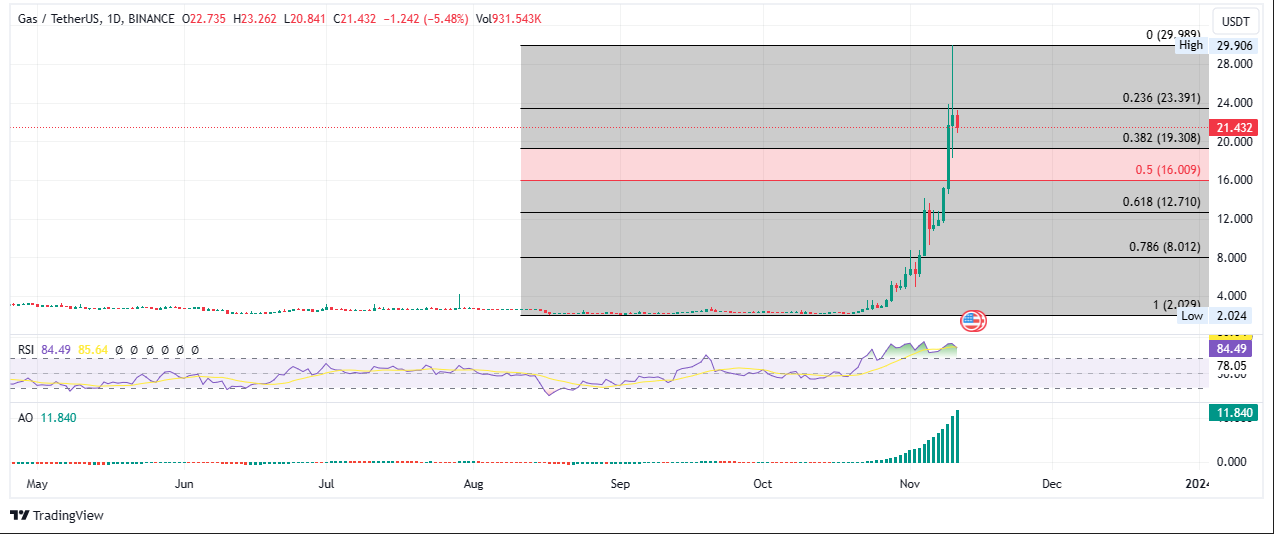 Converse Case
On the other hand, if sidelined investors who missed out of the previous rally come in, the ensuing buying pressure could send Gas token price higher. Likely targets in such a directional bias include the 23.6% Fibonacci or higher to reclaim the range high at $29.98.
The bullish thesis is also plausible considering the Awesome Oscillator (AO) is in the positive territory with green-shaded histogram bars. This shows bulls are still in the lead and therefore adds credence to the bullish outlook.
Meanwhile, investors looking for safer and more promising alternatives should probably take a look at BTCMTX. It is one of the hottest stake-to-mine projects in the market today with experts ranking it among the five best tokens to buy now.
Promising Alternative To  GAS Token
BTCMTX is the powering token for the Bitcoin Minetrix ecosystem, a cloud-mining project that gives everyone a fair chance at Bitcoin ownership. To do this, it has decentralized and tokenized the entire process, bringing down all the high entry bars.
Now, community members need not worry about costly machinery and cloud-mining scams. You are also spared the hassle of space, heat, and noise.
#BTCMTX presents a streamlined cloud mining option for the #Crypto world.

Past worries regarding costly machinery and cloud mining scams deterred numerous individuals.

This decentralized approach guarantees an open and secure mining enterprise.💼🔨 pic.twitter.com/sJ8JPRHf5c

— Bitcoinminetrix (@bitcoinminetrix) November 10, 2023
With experts predicting that Bitcoin Minetrix's native token, BTCMTX, will explode 10X upon launch, now is the best time to buy. The token is selling for only $0.0115 in the presale, with traders buying the asset using Ethereum or Tether (USDT) stablecoin, while others prefer their bank cards. It is completely up to you. So far the project has raised $3.765 million, with the $4.407 million target now in sight.
Recognising a significant accomplishment for #BitcoinMinetrix! 🌟

Exceeding the $3,600,000 milestone! pic.twitter.com/jC0RxzqnTu

— Bitcoinminetrix (@bitcoinminetrix) November 7, 2023
Notably, the $0.0115 price tag will leave the counter in less than a day, ushering in a higher price tag. Get in early and join the many experts and traders raving about Bitcoin and the entire exchange-traded fund (ETF) narrative on Telegram. Ride ahead of a spot BTC ETF approval with Bitcoin Minetrix, as it helps you own BTC before the actual hard pump finally gets here.
Visit Bitcoin Minetrix here
Also Read:
New Crypto Mining Platform – Bitcoin Minetrix
Audited By Coinsult
Decentralized, Secure Cloud Mining
Earn Free Bitcoin Daily
Native Token On Presale Now – BTCMTX
Staking Rewards – Over 100% APY
Join Our Telegram channel to stay up to date on breaking news coverage

Credit: Source link