Filecoin is a decentralized storage system to "store humanity's most vital information." To fund its development, the project held an initial coin offering (ICO) in 2017, from which it reaped $205 million; its original launch window was set for the middle of 2019. Filecoin's mainnet debut has been delayed to block 148,888, or around the middle of October 2020.
The Interplanetary File System (IPFS) is a decentralized file sharing system, and this project was initially announced in 2014 as an incentive layer for IPFS. Filecoin (FIL) is the money used to conduct transactions on the open-protocol network. It is supported by a blockchain that verifies the authenticity of transactions and the identities of its participants. There are two fundamental tenets of the blockchain: proof-of-replication and proof-of-spacetime.
Filecoin and Harvard in an Unexpected Partnership
Harvard stands tall today as the oldest learning and research institution in the US and one of the world's most prestigious universities. As part of its goal to strive for excellence in all fields, the institution has recently shown much interest in blockchain and cryptocurrency technology. Earlier this month, the Filecoin Foundation for the Decentralized Web (FFDW) agreed to partner with the Harvard University Library Innovation Lab (LIL).
The two groups did this to find better ways to store information online using decentralized storage solutions and other technologies. FFDW's president, Marta Belcher, commented on the partnership, "FFDW is on a mission to preserve humanity's most important information. This collaboration will enable the Library Innovation Lab to explore how decentralized technologies can solve real-world challenges to safeguarding critical data, and we're thrilled to support the Library's Democratizing Open Knowledge program.
Filecoin Slips 28% –

will FL

be 

Distributed

as 

Crypto

Grants

in 

a 

New

Programme
The Filecoin Foundation and Electric Coin Co. (ECC) have announced the launch of a joint grants program to fund projects that could benefit from the Filecoin and Zcash ecosystems. Organizations focus on projects that have proposed unconventional and unique ways to leverage their FIL and ZEC tokens rather than well-established and common ones.
The Filecoin Foundation wishes to incubate projects that will contribute to the growth of both the Filecoin network and the larger Web3 ecosystem through Electric Coin Co. (ECC). Simply submit a proposal through GitHub if you believe your idea has what it takes to revolutionize the crypto space and stimulate innovation in the Web3 sphere.
All accepted projects will receive funding from a pool of over 300,000 FILs provided by the Filecoin Foundation.
What are the ECC and FFDW?
ECC was founded by distinguished mathematicians, engineers, and cypherpunks to provide people with access to a fair and open currency (Zcash) that does not consider a user's demographic or location. Filecoin (a decentralized storage provider) established the Filecoin Foundation to assist innovative developers in realizing their vision for Filecoin.
The company is dedicated to hastening the growth of the decentralized web.
Filecoin Slips 28% – Technical Outlook
The FIL/USD opened at $6.39 on August 24 and fluctuated between a high of $6.40 and a low of $6.18. Its price fell 1.88% today and nearly 28% over the last week (17/08/2022–24/08/2022). As a result, it is currently worth $6.25. The FIL/USD is trending sideways, consolidating in a narrow trading range of $6.73 to $6.09.
Since August 1, the cryptocurrency has been under bearish pressure. During the last week, the coin fell to a support level of $6.09 and hasn't been able to violate this level. On the higher side, FIL/USDT may find an immediate resistance at $6.75 and a breakout of $6.75 level can expose this level can expose FIL price until $7.75 an $8.95.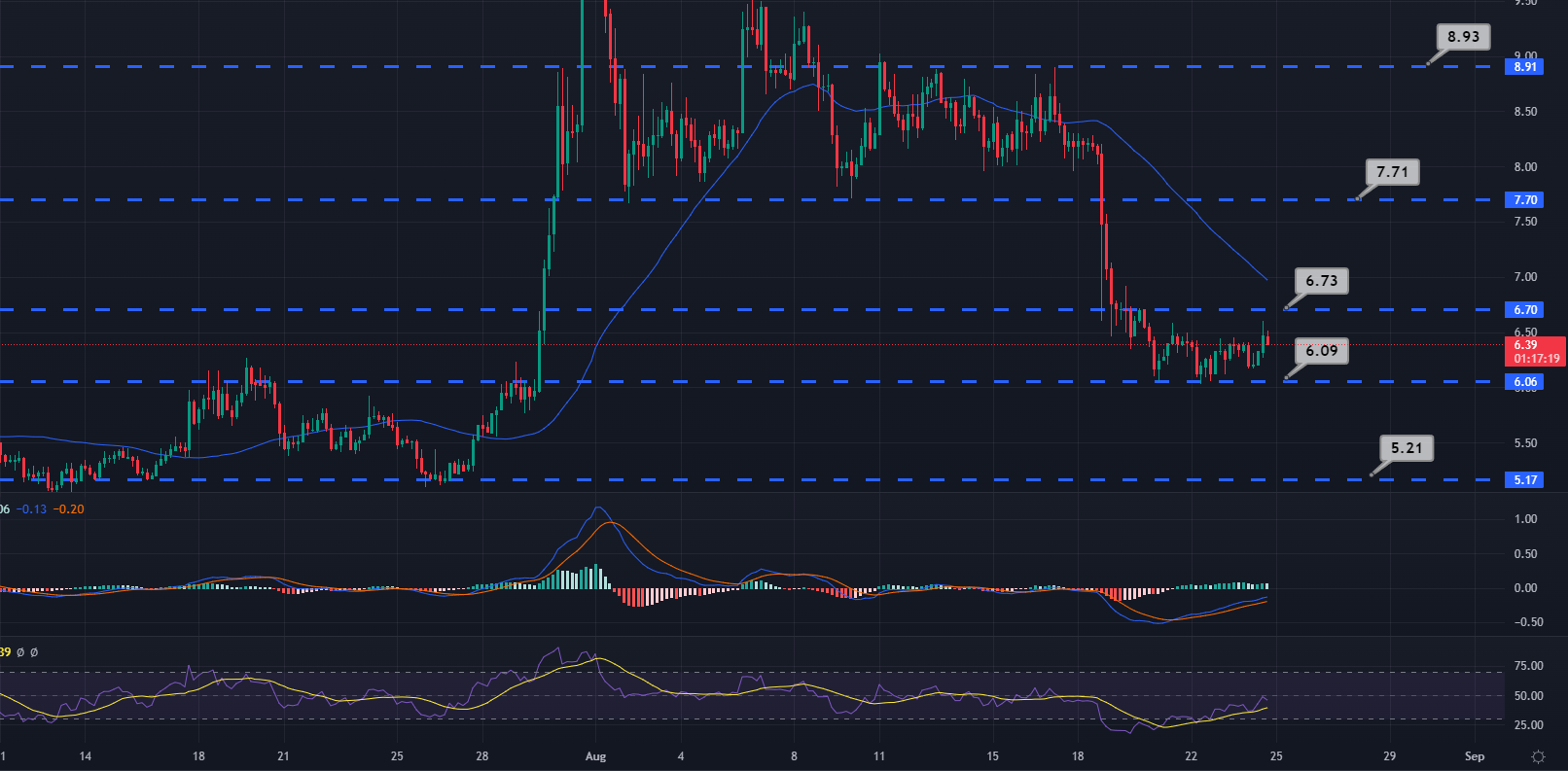 Filecoin (FIL) Price Chart – Source: Tradingview
Filecoin is trading below the 21-period EMA and the 9-period EMA, indicating strong bearish momentum. The relative strength index period 14 is at 46 points pointing south, indicating a sell signal. Filecoin aims for a support level of $5.21 and may break it if the bears apply more pressure. If the Bulls can push the price up and break through the $6.75 level, the $7.75 level could be the next target. Good luck!
Related
Tamadoge – Play to Earn Meme Coin
Earn TAMA in Battles With Doge Pets
Capped Supply of 2 Bn, Token Burn
NFT-Based Metaverse Game
Presale Live Now – tamadoge.io
Credit: Source link