Join Our Telegram channel to stay up to date on breaking news coverage
In our best crypto to buy now of yesterday, we hinted at the possibility of Bitcoin gaining some ground this week. We also gave updates on presale coins investors can look into, especially as the market becomes even more bearish. 
The global crypto market has been on a fluctuating spree all week. It dipped by 3% yesterday. This morning, it's up from 1.4% to $1.1 trillion. Trading volume is also up by 5%, topping $48.6 billion in 24 hours. DeFi constitutes 6% of 24-hour trading volume, down from 7%, as we said in our last update. Bitcoin had a 1% increase in its dominance, going from 45% to 46%. Investors and traders should keep an eye on the crypto giant, BTC. We'll tell you more about the price changes of BTC later in the updates. 
Global Market Cap Chart
Meanwhile, in the news, Coinbase is going to court. Just 24 hours ago, SEC charged Coinbase to court over allegedly offering crypto asset staking services. Also, Apple acquired Mirra, an AR company that's specialized in 3D shopping experience. At the moment, it's unknown what this means for Render Token. More on this later. Also, the Optimism OP bedrock upgrade went through yesterday, and the price is gradually improving. 
The Best Crypto to Buy Now
As usual, we're going to have a quick look at the coin market. The aim is to identify pumping coins that are set to take off. As it is our culture, we'll curate a list of the best crypto to buy now. Our list also includes some presale coins that savvy traders and investors might want to capitalize on. Come with us as we observe the market and trends to uncover the best-performing cryptocurrencies. 
1. Ecoterra ECOTERRA
Ecoterra is capitalizing on the multibillion-dollar recycling industry. It's presale crypto that rewards users for using its recycling medium in their everyday lives. Part of its goal is to bring down the carbon footprint of the crypto sector through innovative recycling processes. In just eight presale stages, the platform has raised over $4.7 million. At its current progress rate, chances are that Ecoterra might become the best crypto to buy now. In 21 days, its price is set to reach $0.1. Consequently, we are looking at one of the most valuable crypto launches in recent times. 
A HUGE thank you to everyone who has participated in our presale so far 🙌

🔥 $4,8 MILLION RAISED 🔥

Stay tuned for more updates on our exciting journey!

Join our #Presale now ⬇️ https://t.co/1fYkPOtnOe pic.twitter.com/rEoRdEp9uY

— ecoterra (@ecoterraio) June 6, 2023
While other blockchain projects focus on financial and recreational solutions, Ecoterra shifts its focus toward sustainable living. It is described as the leading Recycle2Earn platform, leading recycle-2-earn innovation. With further iteration, Ecoterra may scale its platform and become a global crypto solution combating long-standing environmental problems like global warming, and solid waste problems, among others. 
As its presale heats up and millions of dollars pour in to support the project, investors and crypto traders should keep an eye on Ecoterra. It might be one of the best cryptos to buy now. Our world is faced with a waste management crisis. We'll see billions of dollars moving toward waste management shortly. Investors looking to earn a sizable chunk of the fund can leverage the growing relevance of Ecoterra. The token is set to become the currency of a sustainable environment in the future. Visit the Ecoterra presale. 
2. Bitcoin BTC
Bitcoin has been the most controversial cryptocurrency lately. Its sad outlook started late last year and has continued throughout the year. It's only recently that the greed/fear index of Bitcoin went beyond 50. However, we're seeing a sudden change in the price movement of Bitcoin as it continues to mount pressure on its resistance in the past 7 days. Likewise, its greed index reached as high as 60 this week. Over the past 24 hours, bitcoin saw a 5% increase in price. 
Speculation trolling Bitcoin in the early days of this year predicted that the coin would end the year with a massive drain of its value. Contrary to popular assumptions, Bitcoin keeps testing its resistance many times in the last 90 days. The rise scaled to a high of $30k, almost crossing the 31k it started with in January. Investors should watch BTC, as it could be the best crypto to buy now.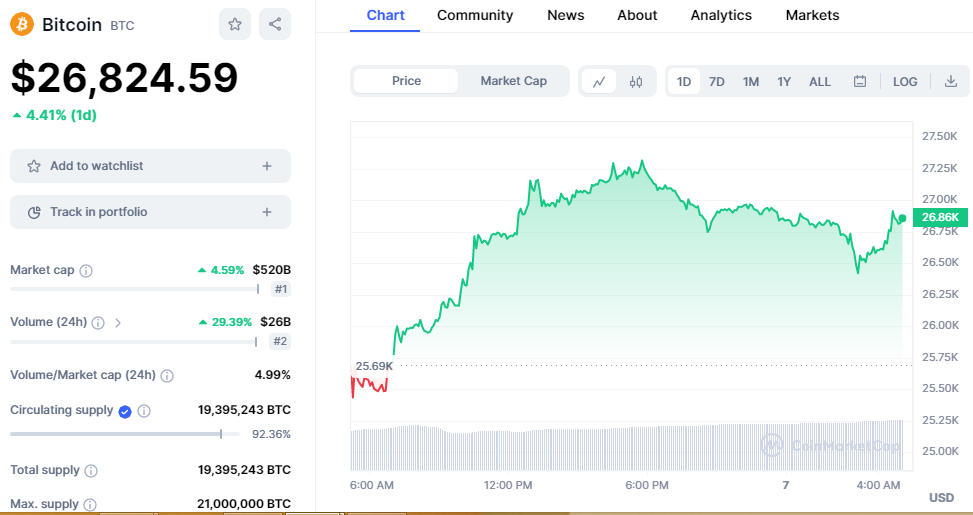 , with the SEC poking fingers at two exchange giants, investors and traders looking into Bitcoin might have to proceed carefully. While it shows progressive price gains, legal action could dramatically affect its price in the coming days. As of yesterday, the news of the suit triggered over $91 million in liquidation in the Bitcoin market. Most of the liquidation came from traders who shorted BTC early this year. We may see similar occurrences later in the year. Nonetheless, BTC has outperformed the expectations of short traders and continues to show potential as the year progresses. Buy BTC on eToro.
3. yPredict YPRED
Again, yPredict makes our list of crypto presales. Given the intense price fluctuations of the major cryptocurrencies, presale coins form the nucleus of our investors' risk management. Ultimately, investors looking for hedging strategies can consider pre-sales like yPredict. For one, it's a utility token set to hit the ground running. The massive influx of funds into AI technology shows that unlikely to see projects like Predict go down the drain. 
yPredict offers to help traders make better trading decisions through its predictive trading too. It has promised to take away the risk of the volatile crypto market. The platform hopes to lower risk through a simulated market where traders can test strategies. 
🔮 Unlock the power of predictive trading with https://t.co/O3DpDatBLj! 📈💰 Experience a new level of insight as AI-based tools empower traders to anticipate cryptocurrency fluctuations from minutes to weeks. Seamlessly construct custom models, test them in a simulated market,… pic.twitter.com/fhrn1Goe5E

— yPredict.ai (@yPredict_ai) June 7, 2023
Furthermore, the red team has demonstrated exceptional performance through its presale efforts. As of this morning, it has raised a total of $2.1 million. Interestingly, the bulk of the fund came in recently, which could mean that momentum is gradually building up around the coin. The coin is set at a launch price of $0.12, and at this moment, its value has reached $0.09. It goes to say that a few days from now, it will be on its way to reaching its proposed launch value. With its value proposition, there is no doubt that YPRED will achieve its launch goal. Equally, it is among the best cryptocurrencies to buy now. Visit the YPRES presale page.
4. Render Token RNDR
Render Token has not been performing too well lately. It started the year with a price rally and ended up with a price that sits far above its $0.8. Compared to its 7-day value, the price has gone down significantly. However, RNDR changed briefly this morning before returning to its downward trend. With the price down to $2.3, now may be the time to scoop up some RNDR. Generally, the increasing number of CGI gadgets making the rounds shows there is a growing market for platforms like Render Network.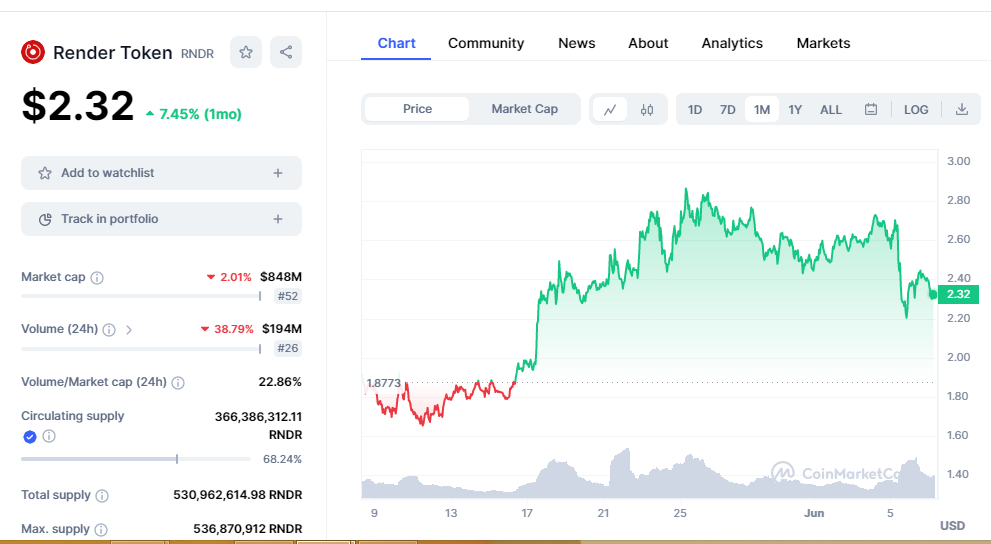 However, the coin has not enjoyed the much-needed traction as it appears to be ahead of its time. Recent events show that it is quite on track. A big example is the just-concluded Apple WWDC, where Render Network became a featured product. Proprietary AI-backed distributed GPU rendering on the blockchain got a pat on the back at the event. There are speculations that Apple might partner with the network in the future. However, news of Apple's acquisition of Mirra spells another question about the direction the iPhone maker might want to go with its VR innovation. There might be a need to be on the lookout to see how things turn out. 
Unique digital creation by @gnomma__, inspired by the Amazon Rainforest and created on World's Environment Day, to shed light on pressing challenges the ecosystem is facing. 🐒🌳🦜

[750 frames rendered by The #RenderNetwork] pic.twitter.com/DHSpnwpsob

— Render Network | RNDR (@RenderToken) June 6, 2023
In the meantime, different use cases for Render GPU capability continue to arise. There are also projections that the platform will become relevant in engineering and other areas such as medicine, biology, and arts. The potential utility of the platform makes it one of the best cryptos to buy now. Fortunately, the GPU category is scarcely contested. In other words, as the adoption of Render Network increases, we're likely to see a pump in price. 
5. Wall Street Memes WSM
Wall Street Memes raised $4 million in its presale launch. That fund went through only two stages of the presale. It may amaze you to know that the WSM presale only kicked off late in May, and in less than 14 days, the platform has raised over $4 million. With the recent competition for the next big meme coin, there may be a need to look into presale memes to cushion the effect of price fluctuation. 
When you stay invested in crypto while the SEC sues Binance and Coinbase pic.twitter.com/csdsyovISm

— Wall Street Memes (@wallstmemes) June 7, 2023
Just yesterday, we saw the price of $INU jump by a whopping $133%, barely 2 days after its launch, and the price still maintained its upward trend today. On the other hand, meme kings like $PEPE entered downward trends over the week. Taking a step towards a less popular presale could help you hedge your bet in the short run. $WSM currently sells for $0.028 and is set to move higher in less than 2 days. Meme coin lovers can visit the WSM presale. 
6. XDC Network (XDC)
The XDC token is up by 3.08% and trading at $0.03398 and its market capitalization currently stands at $470 million.
XDC has a hybrid blockchain network and it functions on the basis of a delegate proof-of-stake mechanism. With its proof-of-stake, XDC enables relay bridges, interoperability for its users, and block finality. Its architecture, by nature, is also friendly to developers.
The network, through its high transparency and consensus, provides tokenization, digitalization, and quick trades to users. Furthermore, the network gives attention to international finance and trade. For that reason, it has come up with a very secure and scalable business-grade architecture with permissions.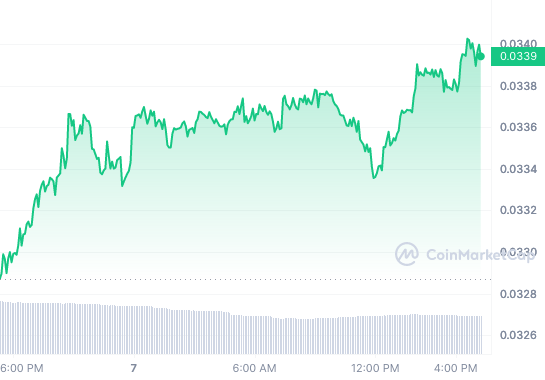 XDC has been able to fix the loopholes in global trade and financing with its hybrid architecture. Financial industries utilize this when XDC provides them with instant settlement through smart contracts. Further to that, the XDC protocol was created to support smart contract layers.
XDC became the best crypto to buy during this period for these reasons, as well as the potential it holds. 
7. Nexo (NEXO)
Nexo is trading up by 0.84% today and sells at $0.6349. It stands firm as the best crypto to buy now.
The Nexo network has more than 4 million clients across the globe and the community grows daily. The platform let users receive interest in their cryptocurrencies. This attracts a lot of users to the Nexo network. These are people who might not be looking for loans or favors but simply want their cryptocurrencies to earn them some passive income. 
The ecosystem provides a general solution to everything that has to do with cryptocurrencies. Beginners can buy crypto for the first time within a few minutes with a few clicks. They would also begin to earn compound interest on a daily basis. Experienced users, on the other hand, can borrow cash and use it for their daily expenses or invest it in buying crypto.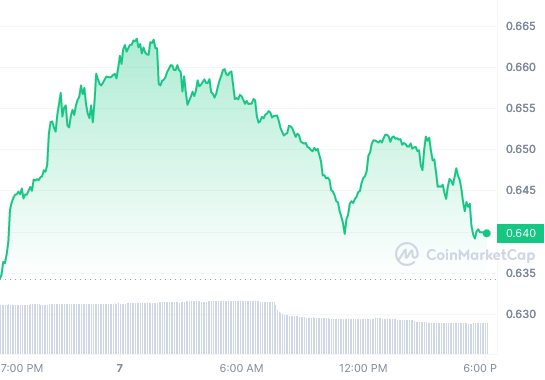 Nexo also has a provision in place for users to borrow other stablecoins, Ethereum, and several other digital currencies if they have CryptoPunks and Bored Apes NFTs. Instant liquidity does not require users to sell their assets. They can borrow as much as 20% of the financial value of their respective NFTs. Part of Nexo's OTC is that there is a manager available to help users throughout their loan process.
Nexo began to issue its native cryptocurrency in 2018.  The token provides utility to Nexo users such as higher interest rates, low borrowing rates, as well as free withdrawal from the platform. The specific benefit to users is determined by a Loyalty Program based on various tiers. The tier also depends on the percentage an individual holds. If a user holds 10% of their investment portfolio in NEXO, for example, they will be placed in the Platinum tier. That would qualify them for interest up to 17% and up to 5 free cryptocurrency withdrawals every month.
Incentivizing users like this places NEXO as the best crypto to buy right now.
8. Bitcoin Cash (BCH)
Bitcoin Cash is also trading higher today at 0.16% to sell at $111.15 on the day. It is the best crypto to buy today because it has remained consistent in the face of recent market instability.
Bitcoin Cash is a P-2-P network and electronic cash transfer system that plans to become sound globally with regard to fast settlement. It also prioritizes privacy, micro fees, and efficient transaction capabilities.
The network was created from a hard fork of Bitcoin's network. It was a radical change to Bitcoin's protocol when it was done because it made initially invalid transactions and blocks become valid. A hard normally requires all users to upgrade to the new version of the protocol's software when it is launched.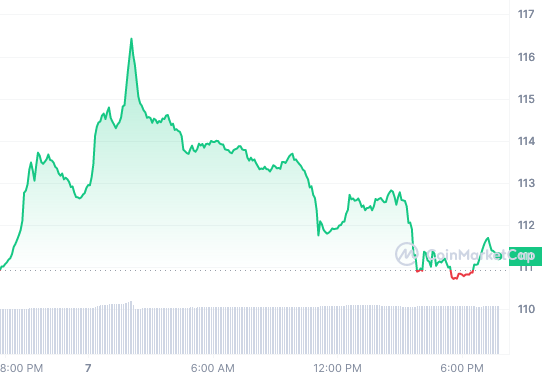 By design, Bitcoin Cash is made to be a cheaper payment method, almost like Bitcoin was supposed to be. Transaction charges are normally less than $0.1 and they are done in less time than Bitcoin. The system was created and maintained by a community of developers who worked on similar projects before. They still consider Bitcoin Cash to be a valid alternative to Bitcoin. According to them, Bitcoin has become an instrument for investment rather than a payment platform. It was designed to be a peer-to-peer settlement system that removes regulatory authorities from financial engagements.
Bitcoin Cash operates on the same node as Bitcoin. It is essentially an ecosystem that lets users carry out transactions with Bitcoin Cash. Bitcoin Cash's blockchain is Bitcoin Cash Node, and you can think of it as the machine that keeps the network running and powers transactions.
Read More
Wall Street Memes – Next Big Crypto
Early Access Presale Live Now
Established Community of Stocks & Crypto Traders
Featured on BeInCrypto, Bitcoinist, Yahoo Finance
Rated Best Crypto to Buy Now In Meme Coin Sector
Team Behind OpenSea NFT Collection – Wall St Bulls
Tweets Replied to by Elon Musk
Join Our Telegram channel to stay up to date on breaking news coverage

Credit: Source link