The current price of Axie is $14.33 USD. The 24 hour trading volume is $83.7 million. In the last 24 hours, the price has decreased by 1.15%. The current rank on CoinMarketCap is 45 with a total existing supply of 83,314,637 AXS and a max supply of 270,000,000Axie and a live market cap of $1.17 billion.
The best places to buy Axie Infinity are currently eToro, Bybit, Binance, CoinW, BTCEX, and OKX.
Axie Infinity By Axie Games, A Unique Video Game
Basically, Axie Infinity is a game based on Blockchain, which gives players partial ownership and control over the game's assets. The game's digital assets are traded amongst players in real-time.
How to get started with Axie Infinity?
Axie Infinity is an online game that allows participants to gather, trade and combat digital creatures called Axies. These Axies are based on famous games such as Tamagotchi and Pokémon.
Axies come in a wide variety and can have combinations of body parts from each type class. There are four levels of rarity: common, rare, ultra-rare and legendary, with Axies being unique with any combination of these pieces.
Axie is an NFT(non-fungible token) with diverse solidities. Once in battle, the team that has the highest combined HP and MP wins and earns more experience (exp) points. These exp points are used to level up or evolve an Axie. By breeding an Axie with another, you can create a new and unique offspring that can be used or traded on the Axie marketplace.
One of the ways to earn Axie is by playing the game. In order to compete, however, you need to use additional resources, called Axie Infinity Shards (AXS). These are voted on by a governing body and will allow you to give your opinion on how funds are spent and key decision-making happening in the community.
Buy AXS on eToro
Your capital is at risk
Meet the founders of Axie Infinity
Axie Infinity was developed by Sky Mavis in the year 2018, along with his co-founders Trung Nguyen and Aleksander Larsen. The company has a team based in Vietnam.
The current CEO of the Axie Infinity platform is Trung Nguyen. He is a BS graduate in computer software engineering and then served as a software engineer.
Aleksander Larsen, a former competitive gamer, co-founded and is the COO of Axie Infinity. He has been working with blockchain gaming since 2017 and previously worked in security through the Norwegian Government Security Organization.
The Axie Infinity team includes 25 employees who have experience in game development.
What makes Axie Infinity different from other Collectible Trading Games?
The Axie pet game uses over 600 different body parts, which is what makes the pet so customizable. Typically, there are average statistics among these body parts and the strongest ones will have incredible stats.

Unlike other blockchain-based games, Axie has a limited number of times they can breed. This is to support managing the population of Axies.
Axie Infinity, a game that is similar to Pokémon GO, has a space called the mating hub where players can breed Axies to make rare or powerful offspring. In addition to Ethereum and special tokens called Small Love Potion (SLP), it costs 0.005 ETH in order to breed the Axies.
Those who carry AXS tokens will momentarily be competent to stake them in order to obtain enduring rewards. Unlike other stackable assets, however, those who vote and play using the token will be able to earn the reward as well.
Total Axie Tokens in Circulation
The absolute reserve of AXS tokens is 270 million. As of November 2020, there were 53.5 million tokens in circulation, which is about 20% of their total available tokens.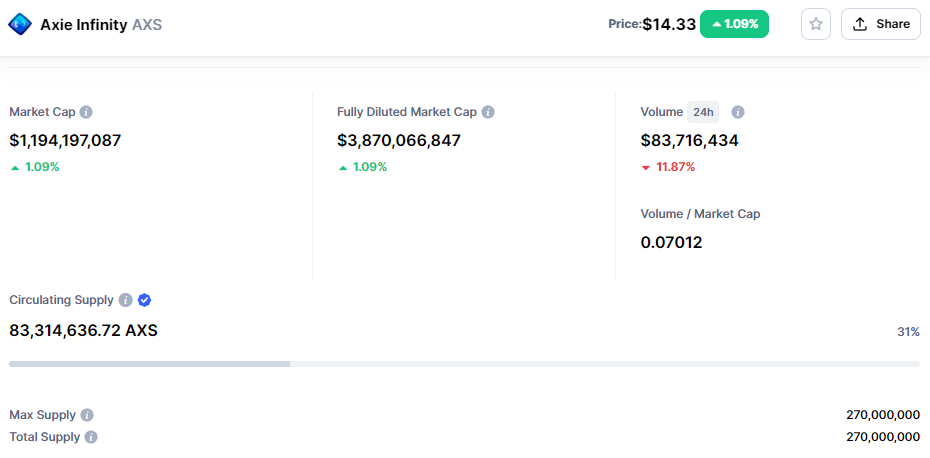 11% of the entire collection was allotted to players in the Binance Launchpad IEO sale and 4% was traded in a confidential sale.
Based on the documents released by Binance Research, it is estimated that there will be no AXS tokens left to circulate by early 2026.
The security measures Axie Infinity employs to secure your assets
The Axie Infinity token is an Ethereum-based, Ethereum-powered token. The reason for this is that it uses the POW mechanism of Ethereum. This makes it secure from attackers.
Leading up to Loom Network integration in 2025, Axie Infinity plans to start the migration. Plans include migrating tokens to the Ethereum network, known as Ronin.
Ronin is a hyper-efficient application-specific blockchain that's being developed just for Axie Infinity. The Ronin chain is made by the same firm behind the game, Sky Mavis, and will be capable of handling instantaneous transactions with reduced gas fees.
Where can you find the unique AXI token?
As of October 2021, many cryptocurrency exchanges are listing AXS for trading. Exchange platforms like Binance, Huobi Global, Coinbase, FTX and others are providing a venue for traders to trade AXS in many currencies.
There are a variety of trading pairs that are in high demand, including AMB to ETH, AMB to BNT, and AMB to BTC. There is interest in the Philippines, Australia and Europe for converting the AMB to rates of PHP, AUD and EUR respectively.
You can use many different currencies with the game, including Bitcoin, Binance and Australian dollars. Possibly as the game rises in popularity, more and more people will turn to PHP, AUD and EUR.
Buy AXS on eToro
Your capital is at risk
Read More
Tamadoge – Play to Earn Meme Coin
Earn TAMA in Battles With Doge Pets
Capped Supply of 2 Bn, Token Burn
NFT-Based Metaverse Game
Presale Live Now – tamadoge.io
Credit: Source link