Join Our Telegram channel to stay up to date on breaking news coverage
The cryptocurrency market has enjoyed a rebound after the previous day's selloff. Its total cap has returned to $1.04 trillion, representing a jump of just over 4% in a day. This level also represents a 2.7% fall in the past week, and a 9.4% drop in the last 30 days. Another way of looking at things, therefore, is that prices are due further recovery. And with a number of strong coins still selling at a big discount, here's our pick of the 5 best low price cryptocurrencies to buy now.
5 Best Low Price Cryptocurrencies to Buy
1. Battle Infinity (IBAT)
Freshly listed on CoinGecko and CoinMarketCap, IBAT has posted a 18% gain in the past 24 hours. Data for longer timeframes isn't available yet, given how new IBAT is.
Given that price aggregators have just listed it, it may be no surprise to hear that IBAT reached its all-time high — $0.00513786 — barely half an hour ago. It remains around this level, although it's obviously very early days.
There remains every chance that IBAT will continue to reach new levels in the short term. For context, Battle Infinity is a play-to-earn crypto gaming platform that sold out its presale within a couple of weeks. It recently announced its first listing, on PancakeSwap, becoming tradable on August 17th. Since then it has gained a listing on CEX LBANK Exchange, with deposits already live. Given that it launched its presale only in August, these two listings highlight just how quickly it's growing, with the coin already boasting more than 10,000 holders.
Hey community,

The deposits are now live on @LBank_Exchange

Get ready with your bags there.

Trading will start : 12 pm UTC on 26 August 2022 pic.twitter.com/rxWlO9ZZ6E

— Battle Infinity (@IBATOFFICIAL) August 25, 2022
Battle Infinity's sports-themed gaming metaverse will comprise a range of games. This includes the IBAT Premier League, in which users will build their own fantasy sports teams made up of NFTs of real-life athletes. Said teams will compete against each other, with winners receiving crypto-based rewards.
In time, Battle Infinity will also grow to incorporate other crypto and NFT-based games. On top of this, it will also involve competitive staking feature, its own DEX, and an NFT marketplace.
2. Tamadoge (TAMA)
Running on Ethereum, TAMA will be the native token of a pet-themed metaverse where users can mint NFT-based pets, nurture them and battle them with each other.
Its presale kicked off in early August, and is due to end in early September. Investors can purchase TAMA tokens via its official website in exchange for either ETH or USDT. However, with the sale raising $8.5 million (well in excess of its original $2 million target), it will end very soon.
🚨🐕 ANNOUNCEMENT 🚨🐕

‼️ A NEW MILESTONE ACCOMPLISHED – STAGE 5 IS NOW SOLD OUT AND WE'VE JUST ENTERED STAGE 6 ‼️

🔥$8,500,000 RAISED🔥

✅ WE ARE SELLING OUT FAST!

✅ CURRENTLY $0.0025 CHEAPER THAN THE NEXT STAGE‼️

BUY NOW AT https://t.co/8e6aPKpGi2#Tamadoge #memecoin pic.twitter.com/KoI9KYxVzi

— TAMADOGE (@Tamadogecoin) August 26, 2022
TAMA distinguishes itself from other meme coins with its strong fundamentals. These come from its surrounding metaverse, which offers play-to-earn features. For instance, players will be able to battle their Tamadoge pets and earn rewards for doing so, while they can also sell their NFT-based Tamadoges on the secondary market.
TAMA has also confirmed its first exchange listing, which will be on LBANK once its presale ends. This means those who participated in the presale could be in for a nice profit.
Join the #presale now and be ahead of the game 😎

Reminder: We already confirmed LBank listing after the presale, is it worth getting in early? You do the math 👀🔣

Grab some $TAMA now at https://t.co/8e6aPKHhGC and brace yourself for a nice ride 🦾 pic.twitter.com/0tRG9K1Lwi

— TAMADOGE (@Tamadogecoin) August 21, 2022
Impressively, Tamadoge has already accumulated over 49,000 followers on Twitter. This represents some serious growth.
Visit Tamadoge
3. Flow (FLOW)
At $1.96, FLOW is up by 12% in the past 24 hours. Despite this, it remains 8% down in a week and 28% down in a fortnight.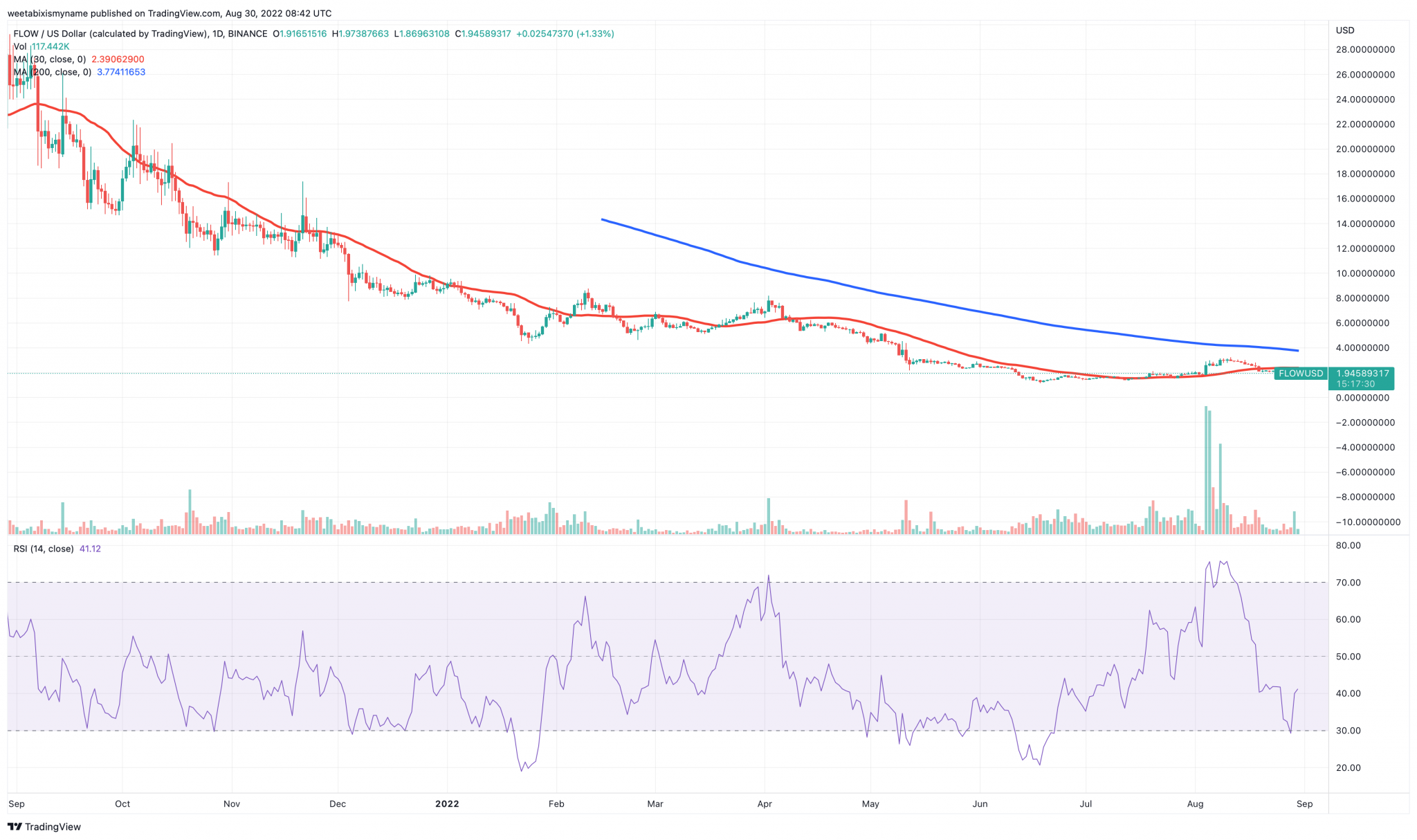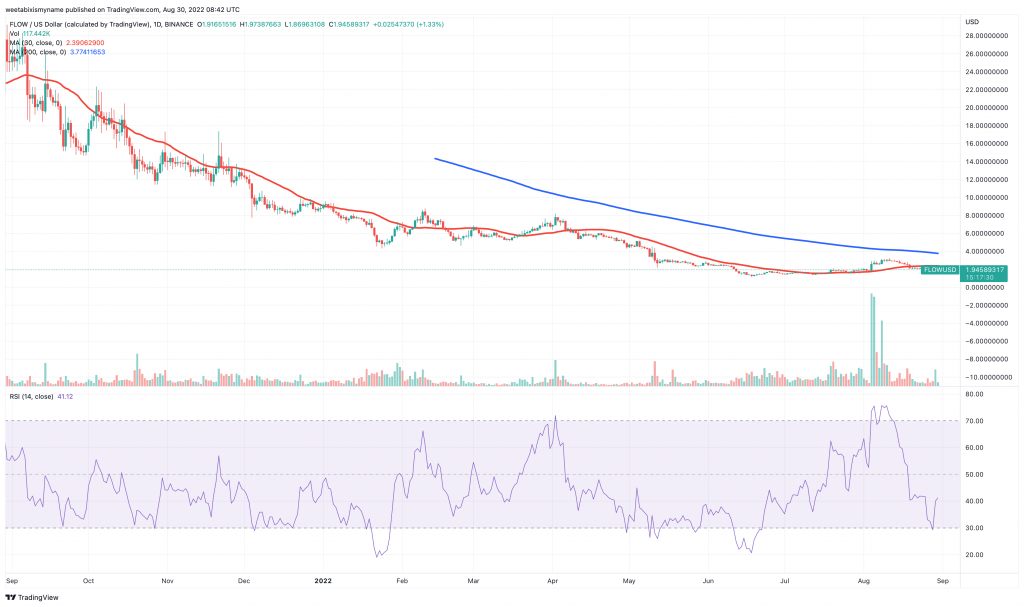 FLOW's indicators show that the market is overselling it right now, but that it may have begun a rebound. Its relative strength index (in purple) sank to 30 over the weekend, but how has now quickly bounced up to 40. Likewise, its 30-day moving average (in red) has plateaued and is now nearing its 200-day average (in blue), signalling a positive reversal.
Flow is a layer-one blockchain designed specifically for Web3, NFTs and games. Not only is it the home of the popular NBA Top Shot NFT collection, but it recently announced a massive partnership with Instagram. This collaboration means Flow users can connect their wallets to their Instagram accounts and share their Flow-based NFTs with other people.

Today's the day 🥳

Our partnership with @instagram begins rolling out, which means select users can now connect their @hellodapper wallet and showcase their favorite NFTs directly on their account!

Access will be rolling out all month, so get ready for #FlowOnIG pic.twitter.com/hOGPt21NWU

— Flow (@flow_blockchain) August 4, 2022
This is a very big endorsement for Flow, while Meta and Instagram's support could also provide it with a launchpad to expand to bigger things in the future. Its total value locked in has risen by 46.5% since mid-July, indicating its growth. At the same time, it remains 95% below its all-time high of $42.40, set in April 2021. This means it has plenty of room left to rebound, and it's why it's one of our 5 best low price cryptocurrencies to buy.
4. Lucky Block (LBLOCK)
At $0.00039590, LBLOCK is up by 4.4% in the past 24 hours. On the other hand, it has fallen by 14% in a week and by 73% in a month.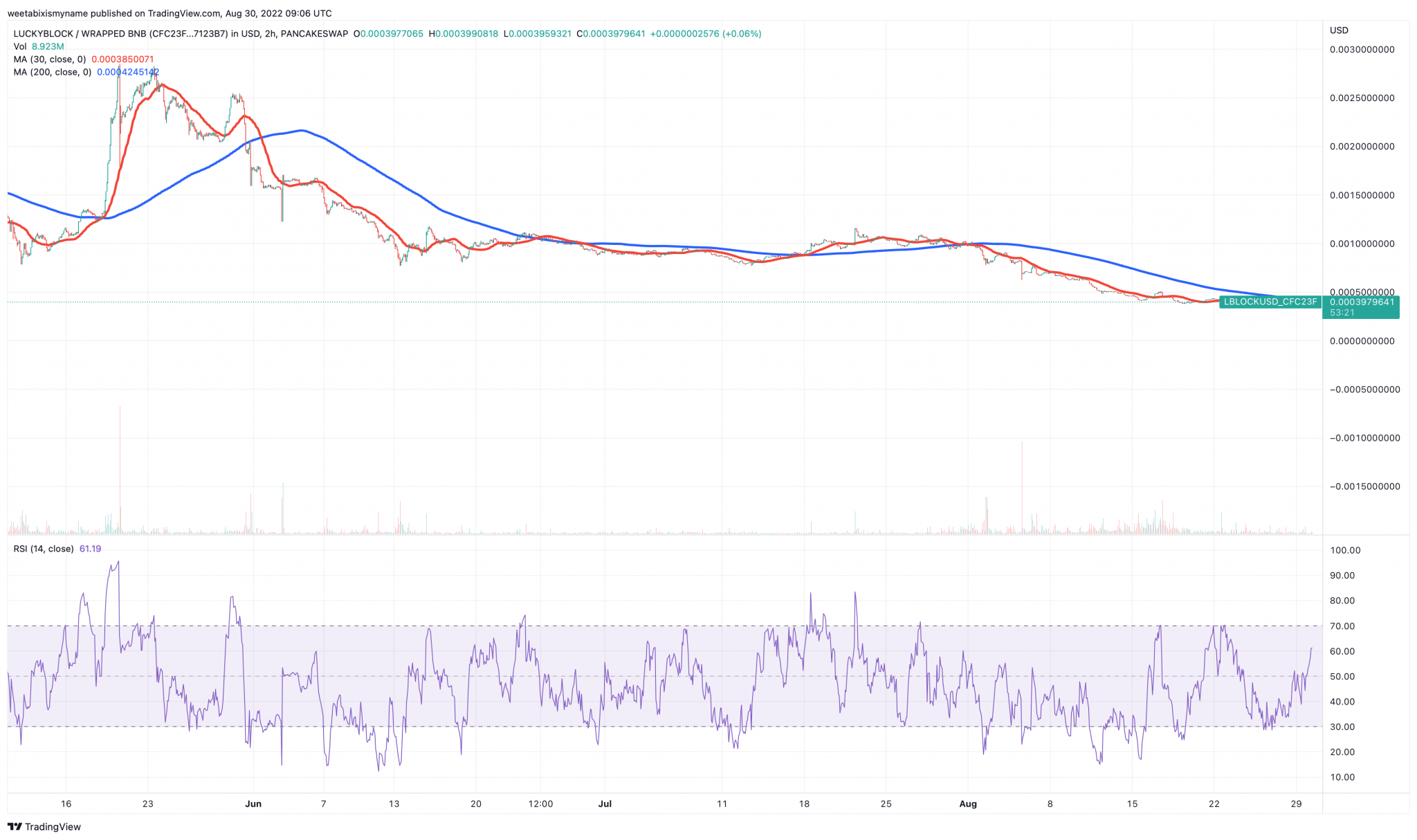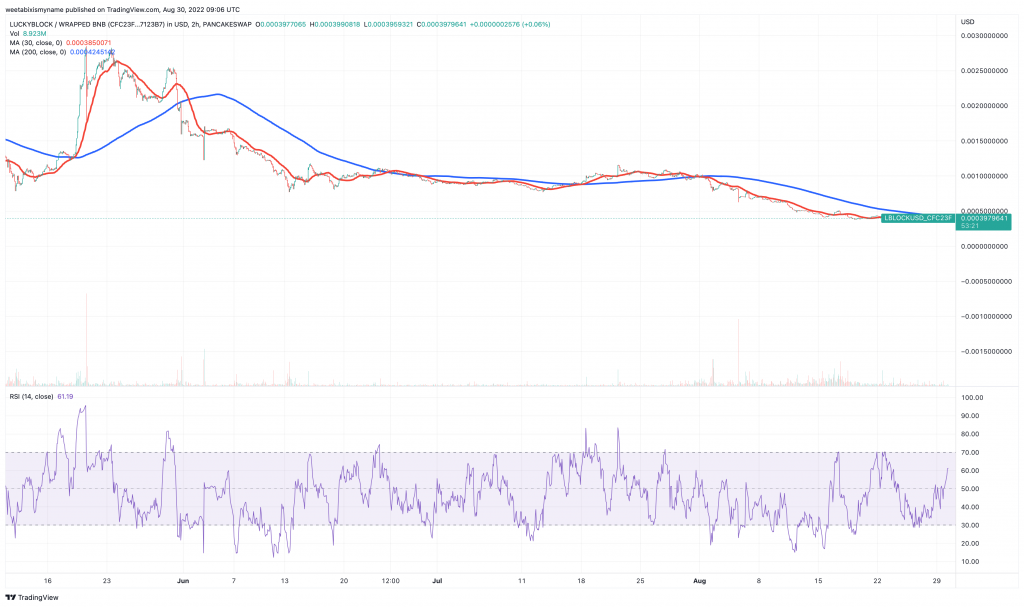 LBLOCK's indicators show that it may be rebounding after a period of overselling. Its RSI is rising towards 70, while its 30-day average could form a golden cross with its 200-day.
It's 95% down from its all-time high of $0.00974554 (set back in February), implying that it has the potential to make some big gains on the road to recovery. Part of the reason why it has seen volatility is that it has gained a variety of new listings. In the long term, these will expand its market and liquidity, but in the short-term they can be destabilising. For example, it recently went live on Gate.io, while it has also been listed on Uniswap, MEXC Global and LBANK Exchange in the past few weeks.
Gm #LuckyBlockArmy! 🌤️

Would you like to enter the Lucky Block spaceship? You can do so now by buying V2 $LBLOCK on Uniswap! 🚀

Go to https://t.co/qG5Oj0Ls0s and don't miss out! 🌔 pic.twitter.com/YyFRSvEqAw

— Lucky Block (@luckyblockcoin) August 26, 2022
Looking at its fundamentals, Lucky Block is a crypto games platform that enables users to enter prize draws with a minimum guaranteed payout of $50,000. These prize draws launched at the end of May, while Lucky Block has recently expanded its ecosystem to include various NFT-related competitions.
Gm! Start your day by grabbing one of the Platinum Rollers Club #NFTs 🌤️

Lifetime entry to an #NFT draw, weekly competitions and more available exclusively to the #PRC NFT holders! 🚀

Get one now at https://t.co/DppL2Cq1q6 🤞#NFTcompetition #NFTs #NFTcollection pic.twitter.com/nmvgVNvFOA

— Lucky Block (@luckyblockcoin) August 18, 2022
One of Lucky Block's most appealing features is that holders of LBLOCK can receive rewards for voting for charities that will receive a 10% portion of each prize fund. Together with its other features, this makes for an interesting and promising ecosystem, which is why LBLOCK is one of our 5 best low price cryptocurrencies to buy now.
5. Lido DAO (LDO)
LDO has risen by 17% in a day. That said, it's down by 14% in a week and by 31% in a fortnight.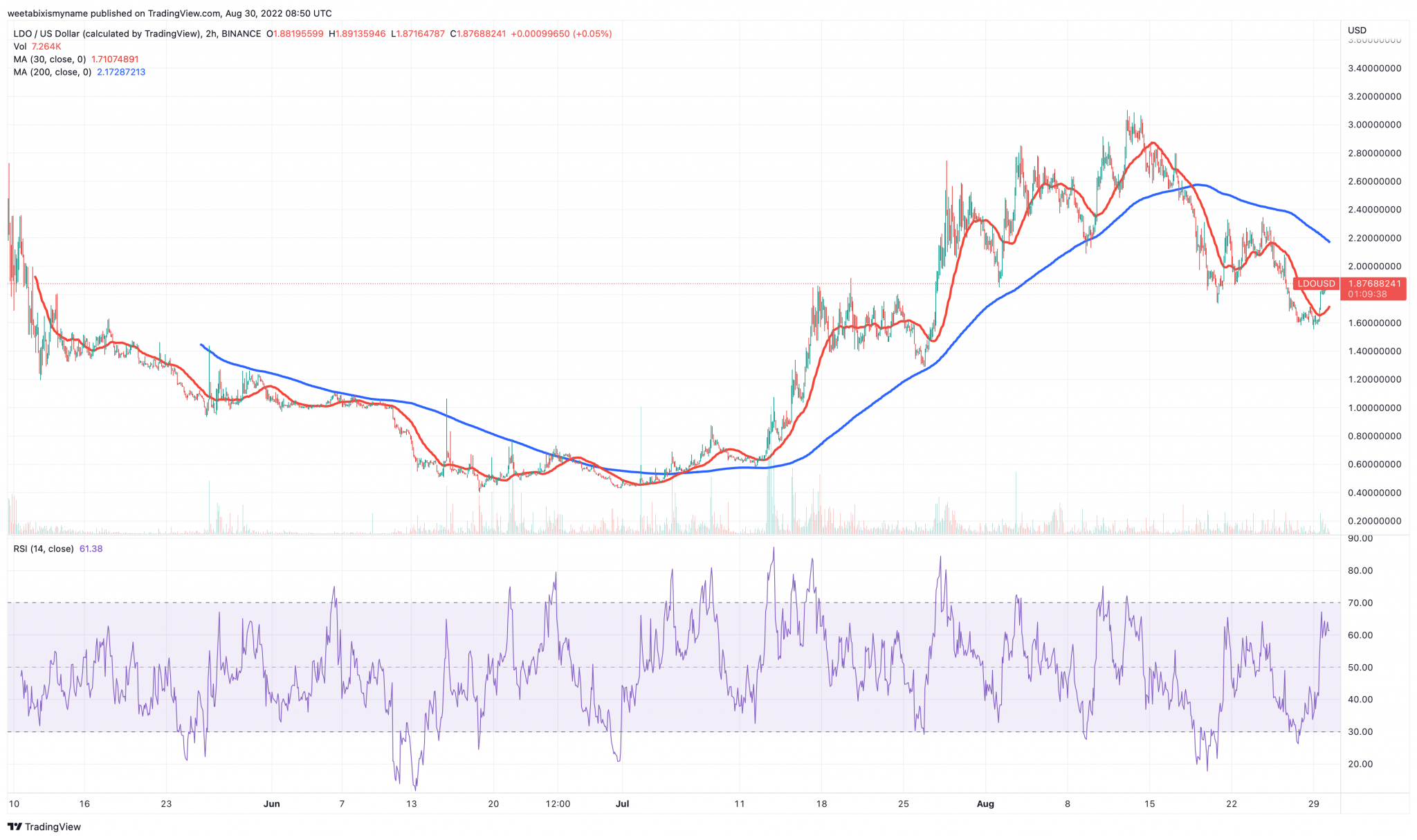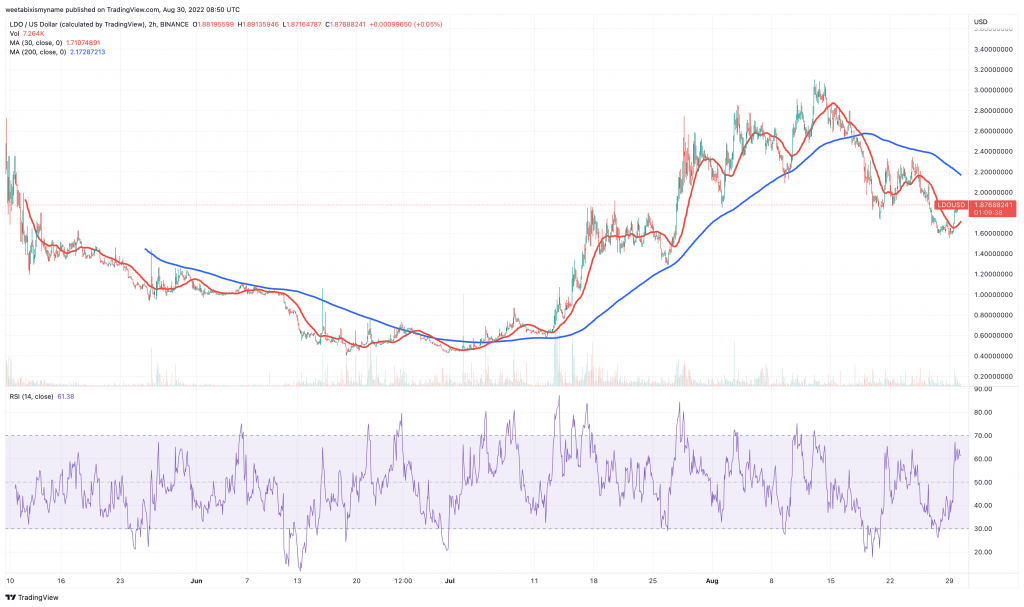 LDO's indicators reveal good momentum. Its RSI has jumped above 60, indicating upwards buying pressure. Similarly, its 30-day average has turned upwards and may have begun the process of overtaking its 200-day, which is a bullish sign.
LDO's chart shows that it had been rallying quite consistently over the past couple of months, prior to the weekend's drop. This was largely because Lido happens to be one of the biggest multi-chain staking platforms in crypto, with Ethereum's move to PoS resulting in more demand for Lido's services. As part of this process, it will launch staked ethereum (stETH) — a derivative crypto that is issued when people stake ETH on Ethereum's new Beacon Chain — on layer-two chains, such as Argent.
Lido is launching stETH on Layer 2 🏝️

Ethereum is scaling, and so is Lido.

Lido stakers will soon be able to use their stETH assets in DeFi on Layer 2.

Read more about it here: https://t.co/QCsQry4V41

— Lido (@LidoFinance) July 18, 2022
This ability to deploy stETH on layer-two networks will be very useful to traders who want to use the altcoin for DeFi purposes. By extension, it will inevitably increase usage of Lido's network, which has already become the second-biggest DeFi protocol in the market in terms of total value locked ($7 billion).
More generally, Lido happens to have staked more Ethereum in the latter's new Beacon Chain than any other staking provider. So once Ethereum does shift to proof-of-stake, expect Lido to cement its position of dominance. This is why LDO is one of our 5 best low price cryptocurrencies to buy at the moment.
1/ @LidoFinance represents the largest liquid staking derivative (LSD) provider of any protocol on @ethereum, with over 4.1MM staked $ETH.

But Lido isn't stopping there…

Let's explore how Lido aims to expand dominance by expanding to @optimismFND and @arbitrum. 🧵 pic.twitter.com/0t9PbwbVkH

— Messari (@MessariCrypto) August 22, 2022
Your capital is at risk.
Read more:
Join Our Telegram channel to stay up to date on breaking news coverage

Credit: Source link