The immense growth witnessed by the cryptocurrency industry in these past few years is thanks to the variety of projects and solutions they had to offer for real-world dilemmas.
But, a decent chunk of the industry also consisted of a new segment that was focused on entertainment and became prominent recently during the latest bull run. This new category of tokens was known as "Fan tokens". As a sector that was created to nurture an already existing fanbase, fan tokens quickly made their way to become an important part of the industry.
What are fan tokens?
Fan tokens are a type of cryptocurrency which gives the investors access to several exclusive perks like decision-making powers for their desired clubs, merchandise, unique experiences, sports icon meetups, rewards etc. The only requirement here is that the person holds an appropriate amount of tokens required to partake in such activities.
While there are a variety of sports that feature fan tokens, one particular sport has managed to stay on top with the most number of high-ranking tokens- football. Listed below are 10 of the best football fan tokens available currently.
1) Santos FC Fan Token(SANTOS)
SANTOS is a fan token of the popular football club Santos FC. Founded over 100 years ago, Santos FC is one of the most famous Brazilian football clubs and is based in Vila Belmiro, a city in Brazil. It was the first-ever recognized club to reach the 10,000 goal milestone across any category in the world and was voted as one of the most successful clubs in the 20th century by FIFA.
The SANTOS token was formed following a collaboration between top exchange Binance and the club management in November 2021. Binance acquired the right to sponsor and licensing of NFT products for the club, in hopes to create a more interactive environment for Binance users while attracting more investors.
As a club which once hosted world-famous players like Neymar and Pele, Santos FC has a massive fan following of more than 10 million followers. The SANTOS token holders are eligible for various club-related benefits like access to club-exclusive privileges, rewards, Limited edition NFTs and collectables etc. Fans with a considerable amount of fan tokens also stand chance to attend meetings with football legends and autograph sessions.
Currently, the SANTOS token is trading at around $14 after a major uptrend from a previous range of $5 almost a week ago. The token is available for trade on exchanges like Binance, Gate.io, Lbank, Pancakeswap etc.
Buy Santos
Your capital is at risk.
2) Porto FC Fan Token(PORTO)
As the name suggests, Porto FC is based out of Porto, a heritage city in Portugal. Founded way back in 1893, Porto FC has managed to stay on the top as one of the best football clubs in Portugal. In fact, it is the most decorated Portuguese team in international competitions with seven trophies.
PORTO is the fan token for the club and is hosted on the BEP-20 network. PORTO was also launched on the Binance Launchpad in November 2021. With an experienced sports marketing manager like Tiago Gouveia as the managing director, PORTO enables fans to be closer to their favourite club with the help of blockchain technology.
PORTO focuses on providing users with three major benefits. Token holders get a chance to interact with the team directly, participate directly and indirectly in several exclusive club-related activities and monetize their holdings as the interest and popularity of the token goes up.
With a $37 million market cap and a current price of around $4.8, PORTO is available for trading on Binance, Gate.io, MEXC, LATOKEN etc. among several choices.
Buy Porto
Your capital is at risk.
3) S.S Lazio Fan Token(LAZIO)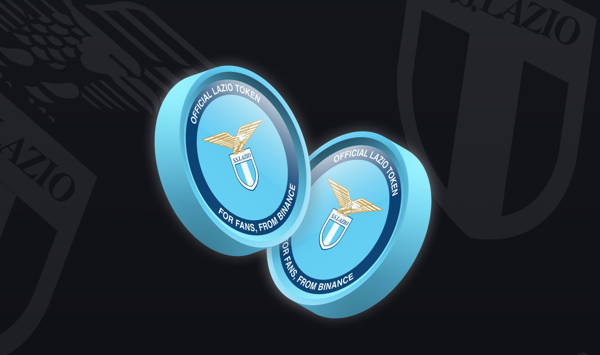 S.S Lazio is not just a popular football club, but also a prominent sports club in Rome that hosts several other sports under its wing. There are over 40 sports that are practised by the players at Lazio, which makes it one of the few clubs to boast of such a huge number of disciplines under one roof.
The Italian club has enjoyed several years in top-tier football leagues and continues to be a prestigious name in several tournaments. Built on the Binance Smart Chain, LAZIO is operated by Binance following a whopping 30 million euros deal. The perks provided by LAZIO are also similar to the standard fan token practices.
It consists of advantages for holders like rewards, collectables, and decision-making rights for certain aspects of the game like the colour of jerseys for charity matches etc. At the time of writing, LAZIO is around 20% up and trading around $4.2. It is available on Binance, Pancakeswap, MEXC, Gate.io etc.
Buy Lazio
Your capital is at risk.
4) Paris Saint-Germain Fan Token(PSG)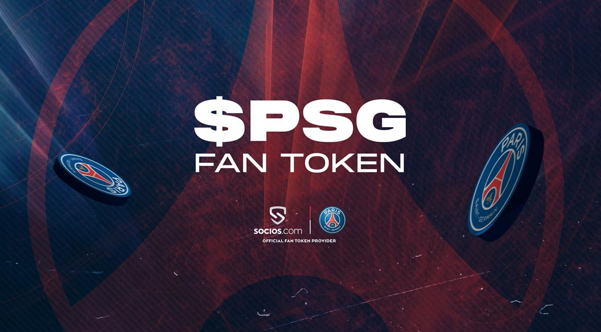 As France's most successful club for the past several years, Paris Saint-Germain is a professional Football Club based in Paris. It is home to some of the biggest players in football. The team has won over 40 official honours and is currently owned by the affluent Qatar Sports Investments.
The PSG fan token is a part of the Socios.com fan token launches, where the platform would conduct FTOs or Fan Token Offerings. Here, fans can buy their favourite fan tokens like PSG using the CHZ token, which is a necessity for buying tokens on the Socios platform. The PSG tokens too, are finite and provide various exclusive rights to holders.
The rights and benefits help fans to interact closely with their favourite club and players. In the case of this club, the PSG token allows holders to become a part of voting for decision-making and provide better chances for tickets, subsidized rates on merch etc. The PSG token is currently worth $10 and has a market cap of around $31 million.
Buy PSG
Your capital is at risk.
5) FC Barcelona Fan Token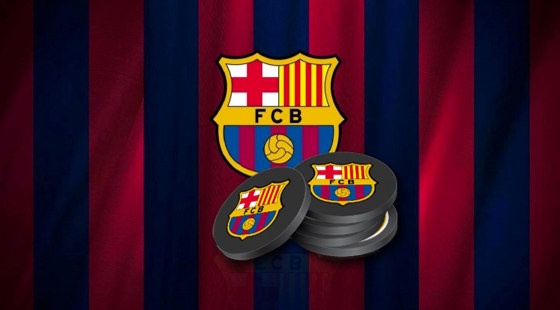 Clearly a name every football fan must be familiar with, Barcelona FC is a world-famous club with a history of more than 122 years in professional football. As a club that boasts of one of the highest social media followings, Barcelona FC has managed to stay on top of the football rankings for several years consecutively.
The BAR fan token for Barcelona Fc was launched in 2020 by Socios on the Chilliz Platform. Users were allowed to purchase the tokens using CHZ tokens and were given several perks for holding on to the tokens.
It allows investors to take part in the club's decision-making process and enter fan reward contests. However, the number of tokens one holds decides the power of votes or tickets one can avail to enter the competitions. BAR tokens saw a great increase in price levels since the holders were given VIP access to the club's home stadium Camp Nou.
Currently, the BAR fan token is trading at around $7 and is available on several major exchanges like Crypto.com, Binance, FTX, CoinDCX etc.
Buy BAR
Your capital is at risk.
6) Manchester City Fan Token(CITY)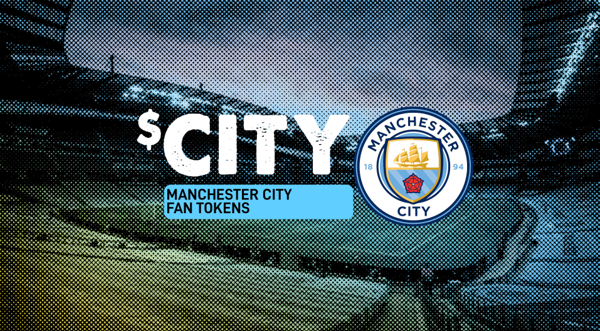 Manchester City is another top-class football club based in Manchester which has been dominating world football leagues for several decades. Originally founded more than 142 years ago, the club was home to some of the top football legends the sport has ever seen. The club is owned by City Football Group Limited and is valued at more than $5 billion.
The CITY token was also launched by Socios.com as a part of its prominent fan token partnerships. It was made official by both parties in March 2021, wherein the token was received with much excitement from its fans. CITY tokens have all the usual benefits and perks a fan would like to have in their club's token.
With a market cap of more than $23 million, the CITY token currently trades at around $6.6 and is available for trading on Binance, FTX, Bybit etc.

Buy CITY
Your capital is at risk.
7) AC Milan Fan Token(ACM)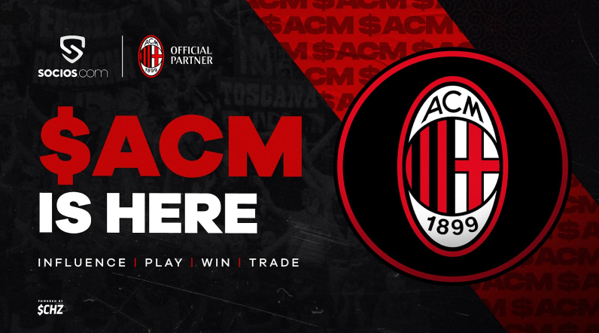 Founded in 1899, AC Milan is one of the legendary football clubs that are still among the top few in football. The Milan-based professional football club has the most number of trophies out of any other Italian club. Originally founded as a club for both football and cricket, AC Milan emerged greatly successful in creating top football teams for several years.
The ACM token is described by the club as the "ultimate fan engagement tool", and rightly so. The token has created opportunities for its fan to expand their interest in the club by actively participating in decision-making for the club and other influential aspects. The amount of ACM tokens also plays a key role, as these determine the level of influence one has while voting.
The ACM token is available on various exchanges like Crypto.com, Binance, Bybit, BKEX, Tokocrypto, MEXC etc. At the time of writing, the token is trading at around $4.6 up about 12% on the daily charts.
Buy ACM
Your capital is at risk.
8) Athletico De Madrid Fan Token(ATM)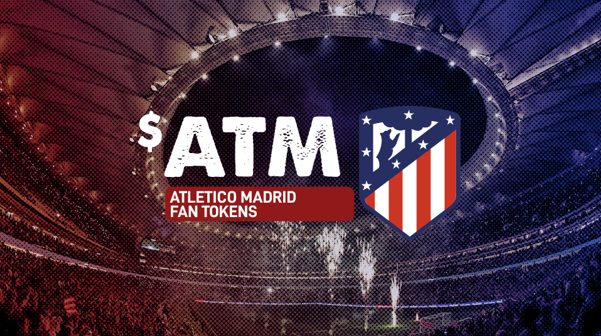 Commonly known as Athletico Madrid, this football club based in Madrid is the third most successful club in Spanish Football. With a huge following across all social media platforms and fans from all around the world, Athletico Madrid has managed to win several trophies over the years and has created a name for itself as a decorated football club.
Athletico is primarily a football club but also has deep roots in several other sports companies. It co-owns some major sports brands and has been a part of several campaigns. The ATM token is one of the 40 major fan tokens launched by Socios.com and has a huge community even within the blockchain industry.
ATM allows holders to take part in various fun engaging activities and competitions along with chances to make several decisions for the club. They get to choose things like the players' mask designs, bus designs, pre-match club graphics on stadiums, social media headers etc.
The fan token is currently available on Crypto.com, Binance, Gate.io, MEXC, Tokocrypto, BKEX etc and is trading between the $5.5-$6 levels with a current market cap of around $11.9 million.
Buy ATM
Your capital is at risk.
9) Inter Milan Fan Token(INTER)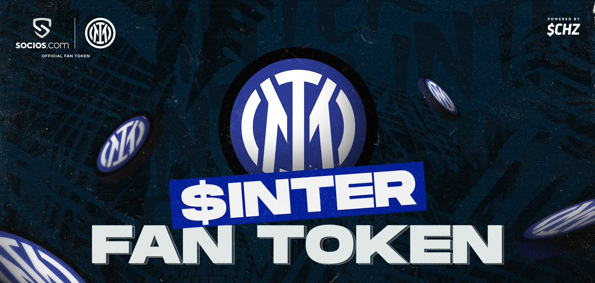 As another top football club from Italy, Inter Milan is the only club to have competed in the top Italian Leagues since its inception in 1909. The 114-year-old club has won 33 domestic trophies, including 19 league titles,6 Supercoppa Italiana and 8 Coppa Italia and has an amazing track record compared to many of its local counterparts.
Some of the major perks that INTER token holders get to avail of are the opportunity to choose a new goal song for the team after every 8 years, pick jersey designs and captains armband, and being able to put out a motivational message in the dressing room for the team before matches.
While many teams haven't yet gotten to this point, INTER tokens allow holders to decide on the starting lineup for the team during official friendly matches. With a decent surge in almost every fan token price recently, INTER too has managed to slightly shoot up in price and is trading at around $3.9, compared to its $2.8 price range back in July.
INTER is available for trading across a few exchanges currently like FTX, Bybit, MEXC, Paribu and Chilliz.
Buy INTER
Your capital is at risk.
10) Juventus Fan Token(JUV)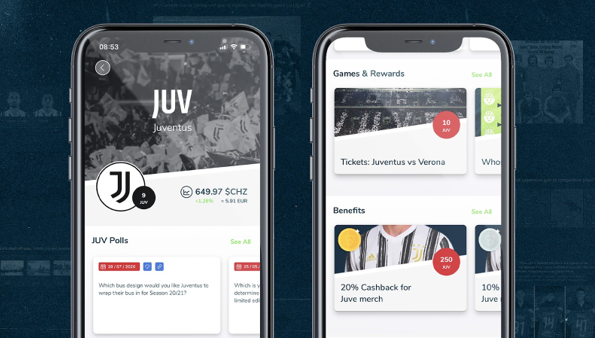 As one of the earliest professional football clubs to ever exist, Juventus is considered to be among the top clubs in the world currently. It is widely admired for keeping the status of a pro football club active for more than 124 years. With a collection of trophies under its wing, Juventus has been home to several hall-of-fame players over the years.
The club is also famous for its owners; The Agnelli Family, who has been managing the club since 1923. The various perks that JUV tokens can fetch its holders vary with time. The club continuously manages to host events and competitions for holders to come closer to the team as fans.
Along with various competitions and major discounts on merchandise, the JUV token, which is also hosted by Socios.com can be used to decide matchday playlists, goal celebration songs, and even the Juventus icon for merch available on the website.
With a market cap of more than $8 million and a huge community following across all major social media platforms, JUV has been rising in value in the past couple of days, where the token went from $3.9 last month to around $6.45 at the time of writing. The popular fan token is available on many exchanges like Crypto.com, Binance, Gate.io, Bybit, BKEX, MEXC, Paribu etc.
Buy JUV
Your capital is at risk.
Conclusion
The growth of fan tokens has a direct relation to sports and the interest around them. As the blockchain grows, it is possible that clubs and huge sports companies may consider exploring the cryptocurrency domain. If such a scenario happens, fan tokens and related concepts will likely gain a huge upside in terms of popularity and price.
Read More
Tamadoge – Play to Earn Meme Coin
Earn TAMA in Battles With Doge Pets
Capped Supply of 2 Bn, Token Burn
NFT-Based Metaverse Game
Presale Live Now – tamadoge.io
Credit: Source link